This recent MAD animated series clip shows what happens when the ladies of video gaming compete to see who's the top in their field!
Daaaaaw. On an unrelated note, I have to go dress up my cats like Deadpool and Dr. Doom and have them fight to the death!
By suzuran, submitted by Dr. Furry


When two best friends play Marvel vs Capcom 3, the fate of two worlds is looking grim!
Another great video by theswitcher, submitted by several people
We all knew Tony Stark loves the ladies, but I had no idea how much he hated pants!
I think there's a Frisky Dingo joke in there somewhere.
By JohnnyUtah [Newgrounds], submitted by Alex H.
Every level 3 hyper combo in Marvel vs Capcom 3? I came.
Also as an added bonus, all the character specific smack talk taunts!
[via ScrewAttack]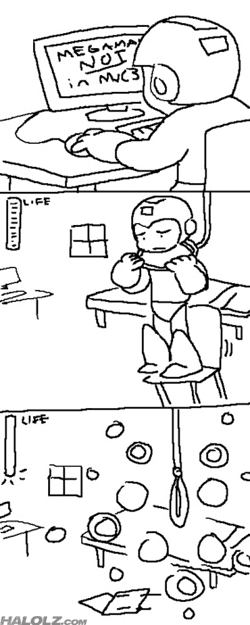 Yes… Marvel vs Capcom 3 is almost out! You know what that means, more crazy crossovers and more heartbreaking disappointment! (Really? No Frank West, Mega Man or Phoenix Wright? COME ON.)
Awesome doodles by Matsu-sensei, found by K_o_Incoherency and ALBATOS