Doctors Warn that Steam Sale Could Lead to Possible Health Concerns
By Halolz Senior Budget Gaming Correspondent Mike Moore
Valve recently announced that they will be running a sale on a large number of the game available on their downloadable game store Steam, which is slated to run from June 24 to July 4.
While Valve says on the Steam storefront that, "While we do not keep statistics on groin pain, there are no reports of injury or death as a result of playing games on Steam." Some Doctors are still wary.
"While players are unlikely to break a bone playing a game, they should be concerned with other possible health issues that could arise," said Dr. Farnsworth, who studies nerd and gamer health issues. "Playing all these games indoors could lead do a vitamin D deficiency, as well as something I call 'lazy fat-ass syndrome.'"
He suggests that anyone playing to play games for a long period of time should invest in vitamin supplements or, "Move your gaming outside. Pick up your DS or PSP and go play under a tree, or if you have to play a Steam game play it on your laptop outside."
The doctor also noted that gamers should be careful not spend all their money on games during this sale, otherwise they might not have enough for food or electricity. "Sometimes we forget how expensive things can be because they are on sale. How terrible would it be to lose your electricity, or pass out from malnourishment, because you spent all your money on games that you now can't play because you have no electricity or are unconscious?"
When asked about gaming outside on an iPhone the Dr. Farnsworth stated, "That's not a real gaming device. The games are so short of that thing that if everyone was playing games only on that, we wouldn't have all these gamer health concerns."

| | |
| --- | --- |
| | Posted by Shawn Handyside on June 30, 2010 · 9:16 PM |
Categories:
Articles, Health & Fitness, Serious Business, Valve Software

·




Share





New Instrument for Rock Band 3 Leads to New Guitar
Hero Instrument Announcement
By Halolz Senior E3 2010 Correspondent Mike Moore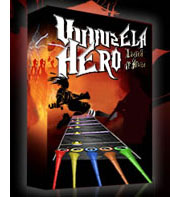 During E3 Harmonix announced a number of improvements that are coming to their latest edition to the Rock Band series, Rock Band 3. Perhaps chief among them was the inclusion of a new keyboard controller, and a pro difficulty mode that more closely simulates actually playing the actual instrument.
Upon seeing the positive reception these additions have gotten from the press, Activision has decided to incorporate a new instrument into both the Guitar Hero and Band Hero series of games, the vuvuzela.
Activision hopes to take advantage of the instruments new found popularity at the World Cup in South Africa saying, "Everyone has been talking about this vuvuzela horn instrument lately. So we thought since it's obviously so popular that it would make a great addition to our Hero franchises."
From what we were able to discern from the Guitar/Band Hero designers, the vuvuzela will work much like the singing does. But instead of matching the pitch of the singer vocals, the player will need to match a varying level of loudness.
"We are also looking to possibly have harmonizing of the vuvuzelas, if players have multiple vuvuzelas hooked into the system at the same time," the designers also noted.
[Image courtesy of Olybop]

| | |
| --- | --- |
| | Posted by Michael Moore on June 24, 2010 · 4:44 PM |
Categories:
Accessories, Activision, Articles, Bad Ideas, Conventions, Guitar Hero/Rock Band, Harmonix, Musical, Sports

· Leave a comment () 73 Comments




Share





Gamers Mistake Riot for Zombie Apocalypse
By Halolz Senior E3 2010 Correspondent Mike Moore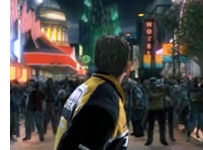 Many gamers, upon leaving some E3 after parties Thursday night, were confused to find a large police presence out on the streets of LA. The swathes of police in riot gear, and the prevalence of police helicopters, led many of these gamers to conclude that a zombie outbreak had occurred. It is reported that some offered their services to the police, boasting their Left 4 Dead stats and skills.
"We weren't really sure what they were talking about," said one unnamed police officer about his experience with one group, "They seemed pretty drunk, and seemed harmless so we left them alone. Eventually they went away yelling about umbrella and looking for pills or something."
Reports seem to indicate that most of these after parties had open bars, which possible led to the gamers' mistake in understanding the situation.
Additionally from what we have been about to piece together the police presence was due to the winning of some sort of non-video game event which occurred at the Staples Center arena. This was the same location Activision used for their press conference a few days earlier. We have contacted Activision, and are waiting to receive word if the two events were in any way connected.

| | |
| --- | --- |
| | Posted by Michael Moore on June 22, 2010 · 3:11 PM |
Categories:
Articles, Capcom, Conventions, Drugs & Alcohol, Left 4 Dead, Paranoia, Party Time, Resident Evil, Sports, Valve Software, Zombies

· Leave a comment () 68 Comments




Share