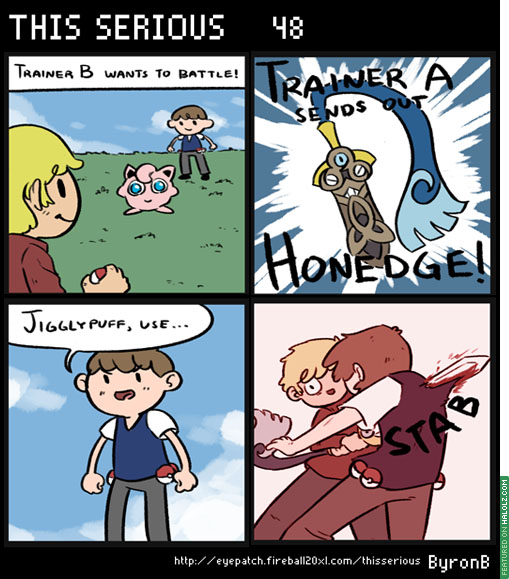 If you're gonna trust ten year old kids with powerful monsters, you can certainly trust them with deadly combat weapons!
A This Serious comic by ByronB!

| | |
| --- | --- |
| | Posted by Shawn Handyside on January 23, 2014 · 8:58 PM |
Categories:
Artistic, Cutesy Wutesy, Nintendo, Pokémon, Sequential Art, Sneak Attack, Special Attacks, Stabbey Stabbey, Swordplay

·




Share





Considering the amount of ground covered in this one, I don't think we'll need another Animal Crossing submission for a while.
By stuff3.

| | |
| --- | --- |
| | Posted by Fred "Trunks" Wood on October 8, 2013 · 7:00 AM |
Categories:
Animal Crossing, Anime, Cray-Z Crossovers, Nintendo, Nintendo DS, Sneak Attack, Stabbey Stabbey

· Leave a comment () 11 Comments




Share





Runeterra… a world where only the stronk survive.
The sequel to the original stick figure battle by FlyingPanda1990, submitted by FlipSide13

| | |
| --- | --- |
| | Posted by Shawn Handyside on October 19, 2012 · 1:49 AM |
Categories:
Animated, Heavy Weapons, League of Legends, Massive Damage, Overkill, PC, Sneak Attack, Special Attacks, Stabbey Stabbey, Swordplay, Teamwork, Video Clips

· Leave a comment () 47 Comments




Share





It's… worth watching until the end…
By GlinkoPlayman, submitted by Blue Paratroopa

| | |
| --- | --- |
| | Posted by Shawn Handyside on October 9, 2012 · 3:37 AM |
Categories:
Adult Situations, Best Friends 4-Eva, Disguises, Disney, Disturbing, Movies, PC, Playstation, Stabbey Stabbey, Team Fortress 2, Valve Software, Video Clips, Weird, Xbox 360

· Leave a comment () 86 Comments




Share






| | |
| --- | --- |
| | Posted by Shawn Handyside on May 29, 2012 · 2:36 AM |
Categories:
Artistic, Disturbing, Gentlemen, Massive Damage, Nintendo, Overkill, Rage Enducing, Retro, Sequential Art, Stabbey Stabbey, Super Mario Bros, Weird

· Leave a comment () 65 Comments




Share





www.youtube.com/watch?v=QwNVQvygCNQ
Multikill!
By CorridorDigital

| | |
| --- | --- |
| | Posted by Shawn Handyside on May 14, 2012 · 11:39 AM |
Categories:
Backstab, Battlefield, BioWare, Bungie, Call of Duty, Cray-Z Crossovers, Electronic Arts, Half-Life, Halo, Head Shot, Heavy Weapons, Mario Kart, Mass Effect, Massive Damage, Microsoft, Nintendo, Sneak Attack, Special Attacks, Stabbey Stabbey, Swordplay, Team Fortress 2, Uncategorized, Valve Software, Video Clips

· Leave a comment () 60 Comments




Share






Sure a Starman makes you invincible… but it doesn't mean you don't feel pain!
By Engel-of-the-Wired

| | |
| --- | --- |
| | Posted by Shawn Handyside on February 10, 2012 · 3:52 PM |
Categories:
Artistic, Irony, Nintendo, No Caption Needed, Power-Ups, Sequential Art, Stabbey Stabbey, Super Mario Bros, Weak Points

· Leave a comment () 59 Comments




Share






I understand we had polygon limitations on the N64 and all, but holy crap The Great Fairy's tits could probably cut glass.
By Angimoto

| | |
| --- | --- |
| | Posted by Shawn Handyside on January 25, 2012 · 12:31 PM |
Categories:
Artistic, Boobies, N64, Nintendo, Sequential Art, Stabbey Stabbey, The Legend of Zelda, Weird

· Leave a comment () 93 Comments




Share




Next Page »