Isn't it great when a video game sequel is better than the original?
By Mowtendoo, [via Destructoid]
I ain't afraid of no boo!
By James Farr, submitted by Psyguy
When Kit Sovereign illustrates it like this, getting all the stars in Mario 64 doesn't seem hard at all!
Now available as a poster at Level Up Studios!
Kappa demon turtles race dishonorably! Vengeance can only be attained using the mystical flower of flames, or perhaps the peeled skin of the delicious banana fruit!
By Jed Henry
I'm sorry sir, but shoving leaves down your pants does not make you a flying raccoon.
By Andre-Guy Landry [Brainslug]
I don't want to say Nintendo is making their games too easy, but in this video by Tyndis, Luigi finally gets his shining moment by defeating three easy level AI opponents in Mario Party without the player even touching the controller (except to start the mini-games).
[via Kotaku]
Chuck Norris doesn't do push-up's, he pushes the Mushroom Kingdom DOWN.
By daneboe, submitted by Carrie Wink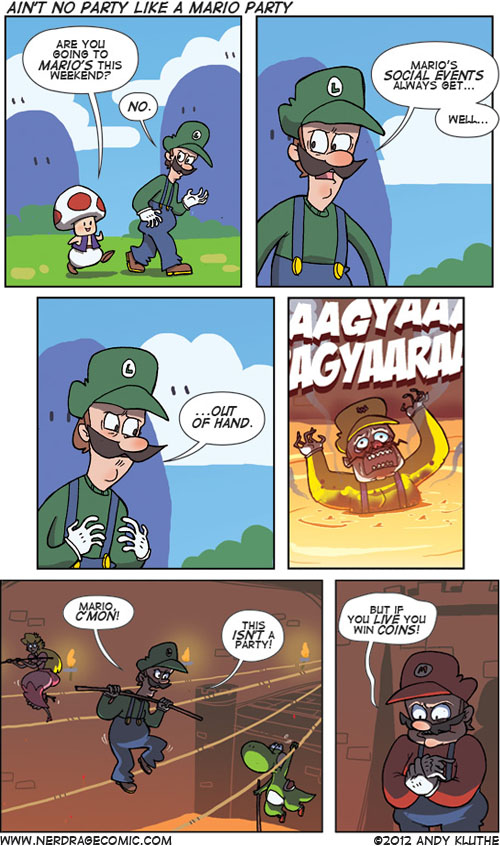 Jesus it's not hard, just put out some cheese dip and play some music!
No lava pits required!
Another great comic by Andy Kluthe [Nerd Rage], submitted by Greg B.