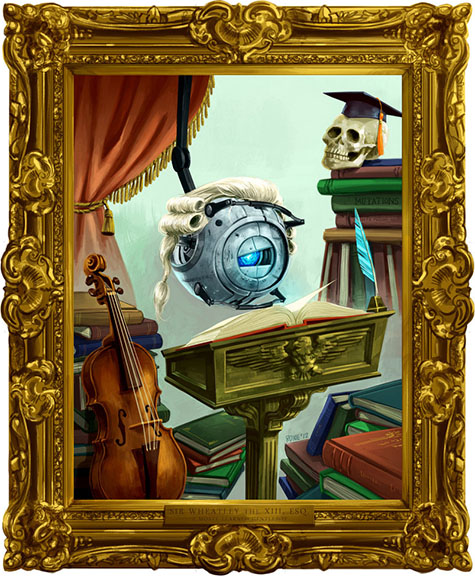 A moron?! Dear sir I am one of the most learned of personality cores!
By roxination
Admittedly everything is cooler when it's done by happydoodle in John K's art style!
At first it seems like becoming a personality core wouldn't be a particularly glamorous position at Aperture Science, but I suppose from a turret's perspective any kind of  job change is a promotion!
Another great Portal music video by Harry101UK
Why in such a hurry to get back? Everyone wants to go to SPACE!
By Mike Minotti [GameStuff]
I love Portal 2, and I love The Nightmare Before Christmas, so basically I want to make out with this entire video!
By Harry101UK, submitted by several people
Yes, Spike's Video Game Awards are pretty much the worst thing ever… but if they have one redeeming quality it's that they result in these cool "Best Character of the Year" nominee videos getting made!
Also goddamn I hate working with YouTube sometimes, sorry for the " target="_blank">embedding problems.
Chell has a rocket launcher, your science is invalid.
By Eless [CoolApe], submitted by Mr. Dollar
It's official. This is the greatest cosplaying prop ever made. That's right all you losers who made a GLaDOS using a potato and some loose wires… contest over! You've lost!
By TRP-Chan, submitted by everyone