There's nothing unusual about it… my love for you will always be genuine quality!
By Sadface

| | |
| --- | --- |
| | Posted by Shawn Handyside on February 14, 2013 · 8:36 AM |
Categories:
Artistic, Holidays, Secret Items, Strike A Pose, Team Fortress 2, True Love, Valentine's Day, Valve Software

·




Share





Oh TF2… your crazy Mann Co.  items will be the death of me!
At least we're getting some decent entertainment out of these virtual wedding rings.
Image by MaxOfS2D, video by SirKemper1

| | |
| --- | --- |
| | Posted by Shawn Handyside on February 17, 2012 · 1:27 AM |
Categories:
Holidays, Incoming Transmission, Off Duty, PC, Playstation, Secret Items, Strike A Pose, Team Fortress 2, True Love, Valentine's Day, Valve Software, Video Clips, Xbox 360

· Leave a comment () 77 Comments




Share





Somebody set us up the love.
By theicecapsaremelting

| | |
| --- | --- |
| | Posted by Shawn Handyside on February 16, 2012 · 6:33 AM |
Categories:
Genesis, Holidays, Incoming Transmission, Retro, True Love, Valentine's Day, Zero Wing

· Leave a comment () 52 Comments




Share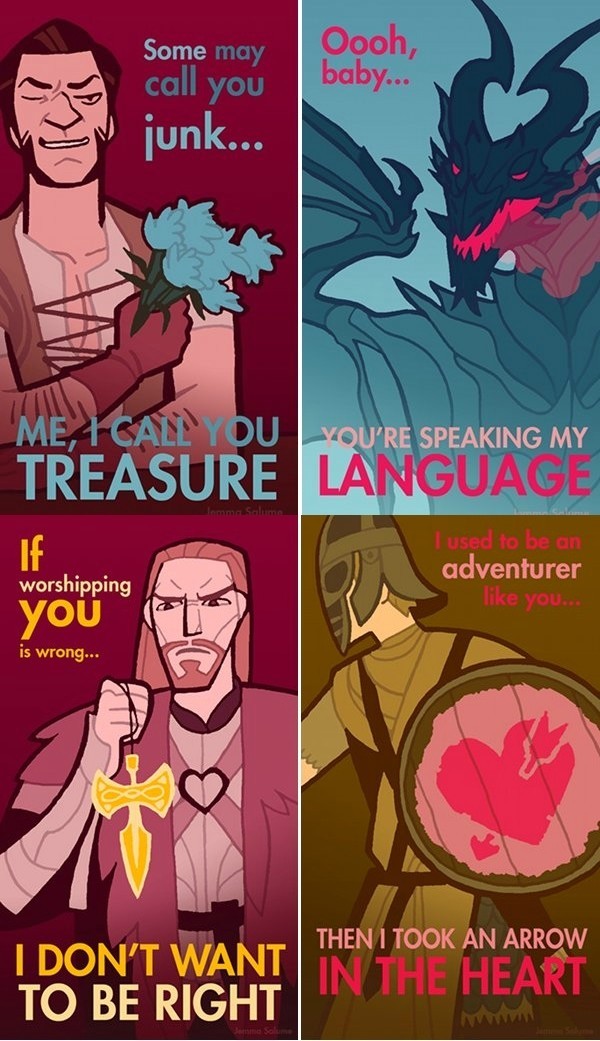 Don't be a lovelorn dragonborn!
Artist unknown, submitted by Sadface

| | |
| --- | --- |
| | Posted by Shawn Handyside on February 15, 2012 · 9:07 PM |
Categories:
Artistic, Bethesda, Here There Be Dragons, Holidays, Shields Up, The Elder Scrolls, True Love, Valentine's Day

· Leave a comment () 55 Comments




Share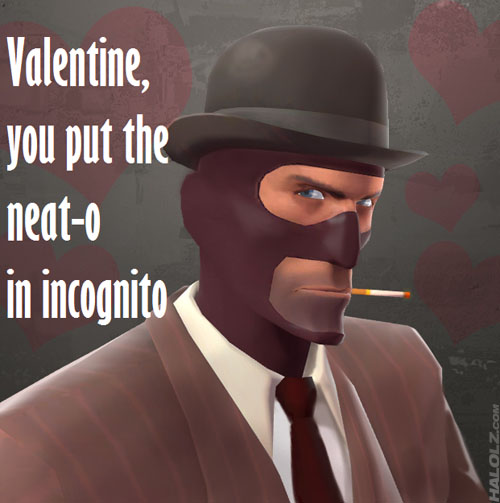 Welcome to Halolz belated Valentine's Day! It's never too late to share the love, even after a disastrous server move!
By kell0436

| | |
| --- | --- |
| | Posted by Shawn Handyside on February 15, 2012 · 12:18 PM |
Categories:
Gentlemen, Holidays, PC, Playstation, Team Fortress 2, True Love, Valentine's Day, Valve Software, Xbox 360

· Leave a comment () 43 Comments




Share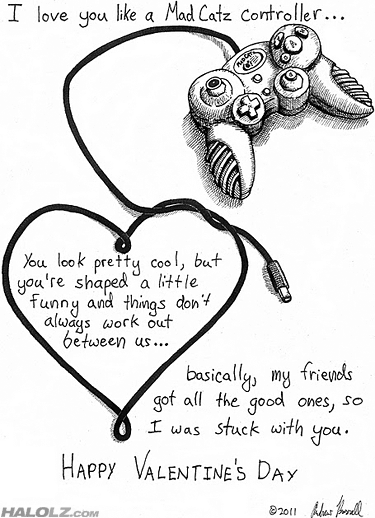 It can be a scary thing when gamers attempt at romance! I'm not even sure if this should be considered a success or failure…
By A Thousand Teeth

| | |
| --- | --- |
| | Posted by Shawn Handyside on February 17, 2011 · 11:59 AM |
Categories:
Accessories, Artistic, Bad Ideas, Holidays, True Love, Valentine's Day

· Leave a comment () 70 Comments




Share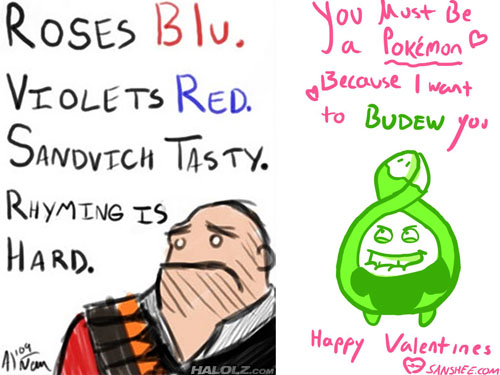 Writing fine poetry is harder than it looks! Especially when you're a gross floating sack, a burly Russian soldier or a perverted grass-type Pokemon!
By The_Octopode, nomdeweb and Sanshee respectively!

| | |
| --- | --- |
| | Posted by Shawn Handyside on February 14, 2011 · 11:46 PM |
Categories:
Aliens, Artistic, Blizzard, Cutesy Wutesy, Failure, Holidays, Nintendo, PC, Pokémon, Starcraft, Storytime/Wordplay, Team Fortress 2, Valentine's Day, Valve Software, Weak Points

· Leave a comment () 75 Comments




Share





Heavy always did have a very close relationship with the Medic. And I mean how couldn't he, what with the doctor always spraying that hot stream of life all over his backside. :O
By Leo E.

| | |
| --- | --- |
| | Posted by Shawn Handyside on February 14, 2011 · 4:12 PM |
Categories:
Heavy Weapons, Holidays, PC, Playstation, Team Fortress 2, Teamwork, True Love, Valentine's Day, Valve Software, Xbox 360

· Leave a comment () 106 Comments




Share




Next Page »