When two best friends play Marvel vs Capcom 3, the fate of two worlds is looking grim!
Another great video by theswitcher, submitted by several people
Every level 3 hyper combo in Marvel vs Capcom 3? I came.
Also as an added bonus, all the character specific smack talk taunts!
[via ScrewAttack]
We all wanted Phoenix Wright in Marvel vs Capcom 3… but how well can you really expect a lawyer to fare in a fighting game with the worlds most powerful heroes and villains?
Then again in part 2 of the comic you may find that some lawyers are tough enough for a street fight!
More awesome comics by Matsu-sensei, submitted by Freddy Trunk-Trunks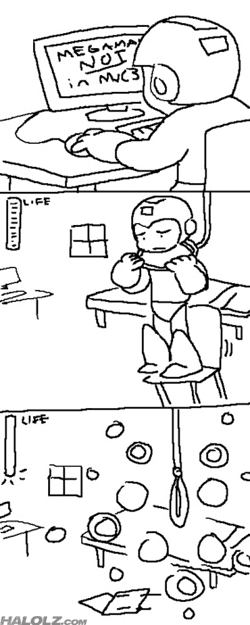 Yes… Marvel vs Capcom 3 is almost out! You know what that means, more crazy crossovers and more heartbreaking disappointment! (Really? No Frank West, Mega Man or Phoenix Wright? COME ON.)
Awesome doodles by Matsu-sensei, found by K_o_Incoherency and ALBATOS
Not that Sentinel or Wolverine would have better luck against him…
Still, Arthur defeated the rulers of hell in his UNDERPANTS! Dude will be just fine.