You call that a massive collection of custom Mega Man sprites? Well where the hell is Professor Layto…oh there he is. Yeah well where the hell is Vincent Valentin…oh there he is. Well where the hell is, you know what… they're all there.
By captainslam (available as a print here!)
Not really a comedy thing per se, but people keep sending it in… so here is Pedro Calvo's fan made Portal 2 music video! I will admit it's pretty cool, although obviously quite spoilerific.
Submitted by several people.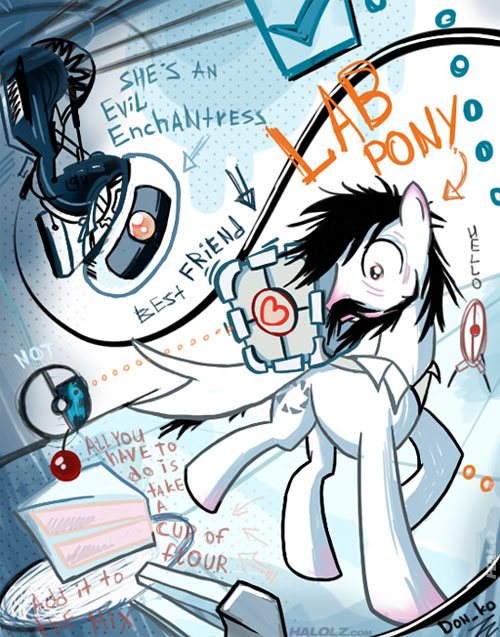 Now you're thinking with ponies! Unfortunately the friendship is a lie.
By Don-KomandoRR, SciStarborne and Neonsupertails respectively
The working conditions aren't great, but they're still better than Black Mesa!
The latest episode of Minions by Eddie Bowley and Mark Cunnah [Edd Egg]
Sure, not really video game humor… but who cares this is AMAZING. Why did this not exist sooner so that they could make it the freakin' cover art?
By Tristan Reidford, submitted by Sadface
This delightful musical interlude brought to you by MrXarlable, who made this Zelda house tune entirely out of Portal 2 cutscenes (for some reason).
For a game with so few characters, I was surprised to see not one but TWO alignment charts for Portal 2 in my inbox today!
By Metalbane and Kyekifino respectively

Excursion Funnel – Click here to zoom!

Pneumatic Diversity Vent – Click here to zoom!
Aperture Science appreciates your willingness to take part in our highly rigorous testing procedures! Be assured, any and all sacrifices you will make during this testing phase will aid the progress of science. Of course failure to comply with Aperture testing protocols may result in sudden onset of sleep, nasuea or sudden cases of death.
Source of these blueprints are unknown, possibly official wallpapers?