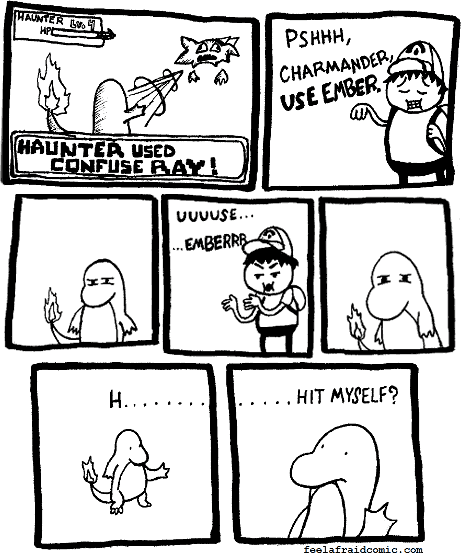 Makes you wonder about confuse ray… is it so powerful that Pokemon actually think they're supposed to hit themselves? Or are they just so dumb that being commanded to hit themselves is perfectly reasonable?
Full comic here, by Christopher Reineman [Feel Afraid]
Pikachu's coming… AND HELL'S COMING WITH HIM.
By X-Play. submitted by several people
How do you make a video like this exponentially more awesome? Get the actual voice actor of Professor Oak to dress up and star in it!
By Underbelly
Blasphemy! Pokéscience has no room for your radical theories on "natural selection!"
All Pokemon were created by a single almighty being! (…Nintendo)
By Santo76 and Bio-bot 9000
I came…
What?
To this city…
Oh.
To listen to a dramatic reading of our Portable Atrocities song!
By TotalHalibut, submitted by Badonk and Stephen
Update: We now have an updated version with background music by akovaski!
Ah, to live long enough to hear the sweet haunting melody of the Gyrados!
By pugfarts, submitted by Sane
Must be encapsulated en masse! Portable Atrocities!
Note: Yes I did make this one myself, since a lot of people have been asking.
Being one of the three starter Pokemon seems awesome, unless you're the one that isn't picked. Then you're FOREVER ALONE…
By Bob McPhee