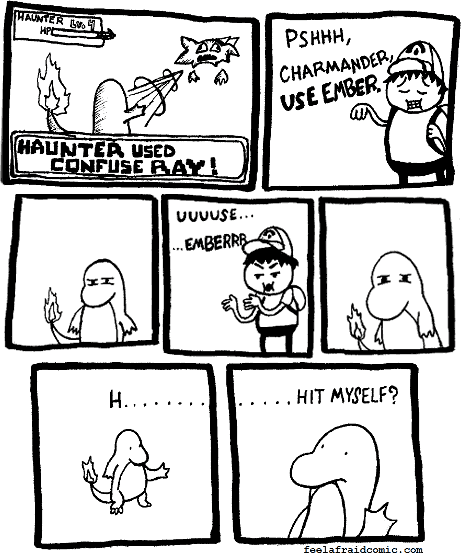 Makes you wonder about confuse ray… is it so powerful that Pokemon actually think they're supposed to hit themselves? Or are they just so dumb that being commanded to hit themselves is perfectly reasonable?
Full comic here, by Christopher Reineman [Feel Afraid]
And finally our grand prize for most creative pumpkin goes to Nick Everson for his Halo: Reach Haunted Helmet! Not only is it a great design, but it looks awesome when it's on fire! I guess that particular haunted helmet belongs to someone at Bungie?
Our runners-up prizes for most creative go to Nick and Molly for their uniquely lit Pacman and Ghosts, and Daniel Potvin for The Original Ghost Pump-kemon that features everyone's three favorite original ghost Pokémon (and a creatively painted Pokeball!) Well done, and congrats again to everyone for making this a fantastic 3rd Halloween carving contest!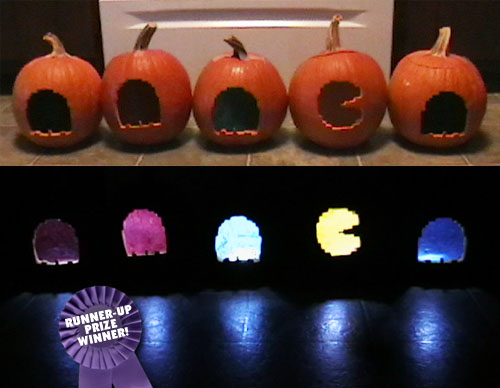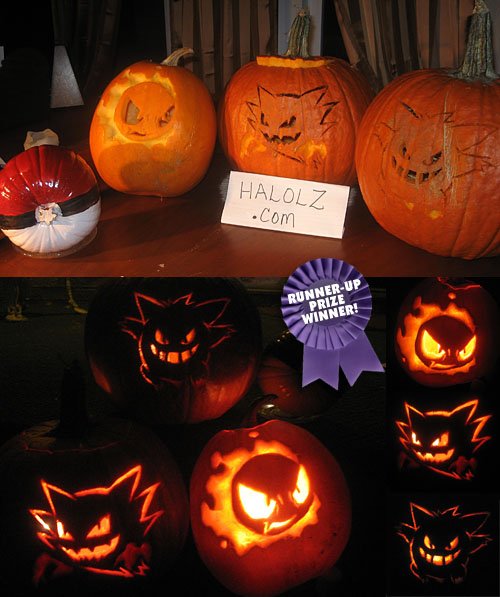 The entries are in! Behold this year's crop of video game themed pumpkins!
#1 – The Original Ghost Pump-kemon by Daniel Potvin
#2 – This is Halloween! by Tom Palmen
#3 – Homeworld by ceemdee
#4 – Sonic/Knuckles Pumpkin by LeeFlippinGreene
#5 – The Cake Is A Lie by Cubetony Licciardi
#6 – inb4 "who?" by TCC
#7 – Blue Knight by Kryfus
#8 – Gengar by CornballCoder
#9 – Pumpkin-Trap by Tom Palmen
#10 – Beyond Good & Evil by ceemdee
#11 – In Disguise Zoom by David Roy
#12 – I was told we would be carving pumkin! by ChimpoDelFuego
#13 – Prinny by kitamoo
#14 – King Boo by Sussi
#15 – Syndicate by ceemdee
#16 – Day of the Tentacle by ceemdee
#17 – Slimer by Sussi
#18 – Kirby's Epic Yarn: Pumpkin "Patch" by BBeast
#19 – Spy Carvin My Pumpkin? NOPE by Tabetha Morango
#20 – Red Dead Redemption by ceemdee
#21 – Duskull by Ashley Randall
#22 – Hitman by ceemdee
#23 – GLaDOS Cake Core and Curiosity Core by LadyFiede
#24 – PumpKoffin' (Pumpkin Koffing) by GengarKing
#25 – Creeper by ceemdee
#26 – Mr. Bubbles by Gene Cole
#27 – The Cake is a Lie… The Pumpkin is not. by Aaron "Ace" Hinds
#28 – Reaper and Reapette by Sussi
#29 – Pacman and Ghosts by Nick and Molly
#30 – Halo: Reach Haunted Helmet by Nick Everson
#31 – Fox McCloud by A Random Person
#32 – Old Snake takes out an Enemy Soldier by suicid3clutch
#33 – Max Payne 2 by ceemdee
#34 – Pokéball by ChimpoDelFuego
#35 – Oddworld by ceemdee
#36 – The Isshu starters, all dressed up for Halloween! by Bridgette Rockette
#37 – No King Rules Forever by Artais
#38 – The Orange Spy by ChimpoDelFuego
#39 – DeathSpank by ceemdee
#40 – Castle Crashers Animal Orb Rammy by Nick
#41 – Dungeon Keeper by ceemdee
#42 – Costume Quest by ceemdee
#43 – Guybrush by ceemdee
Man, what a great turn out this year! I tip my hat and monocle to all of you folks who sent in these awesome entries! And don't forget, be sure to keep checking back during the course of today (Halloween day) as we announce this year's winners! Stay tuned!
The life of a ten year old is a lot harder than I remember…
More info at Shogun Gamer, submitted by several people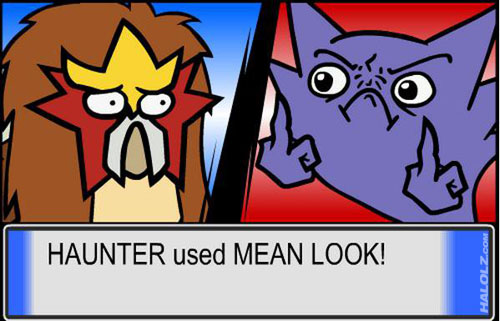 Shit, not even legendaries can escape Haunter's MEAN LOOK attack!
Well actually they can, if you read the full comic!
Read more Hejibits comics by John Kleckner! Submitted by Rexin