A shot by shot re-enactment of a typical Mario Kart race! Well except I've never seen Mario give the cops the finger before…
Another video by Rémi Gaillard, submitted by anonymous.
For more of his hi-jinks check out Remi Kart 1 and Real Life Pac-Man!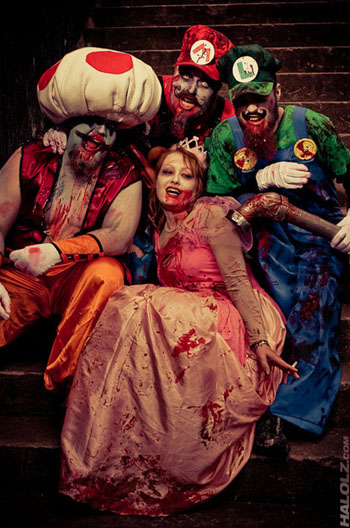 Okay, last zombie pic for a while… I swear! I just can't resist an undead Mario Bros. group shot! Also sidenote, if a zombie eats Toad is that like their equivalent of being a vegetarian?
Photo by Marko Saari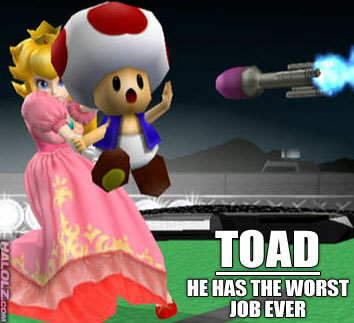 Seriously… why would anyone sign up for a job protecting the princess? There's a kidnapping attempt on her almost every day, and in Smash Bros. things are even more dangerous!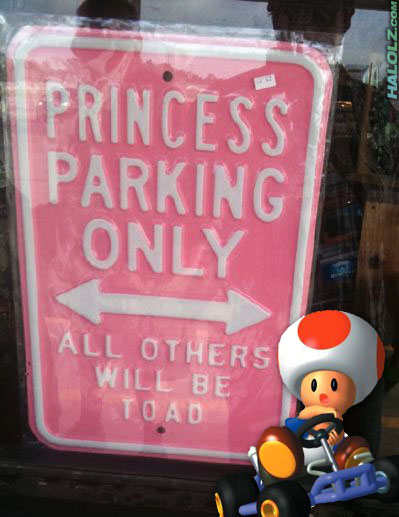 Now that's an interesting typo…
Photo by PsyGuy, submitted by Scott
Overpowered much? Still, I'm really looking forward to playing Ninja Gaiden's Ryu in Exploding Rabbit's Super Mario Bros. Crossover! I mean seriously… ninjas make everything better!
Sooooo… uh… do we our order now or…
From CollegeHumor