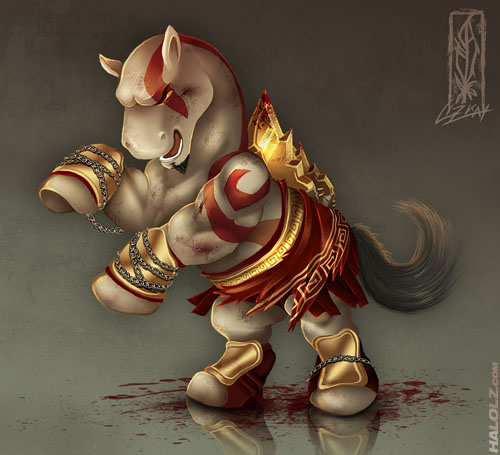 I have heard your cries, loyal readers! I'll take a break from the courage Kratos submissions, and instead post what you guys really want… My Little Pony crossovers!
When he agreed to be one of the four horsemen of the apocalypse, this isn't what he had in mind!
By lizkay, submitted by Paulrus and Caelun_Niveus
Unlike most kombatants, Kratos knows the only true ultimate fatality is to essentially double murder your opponent!
By Bravo Buster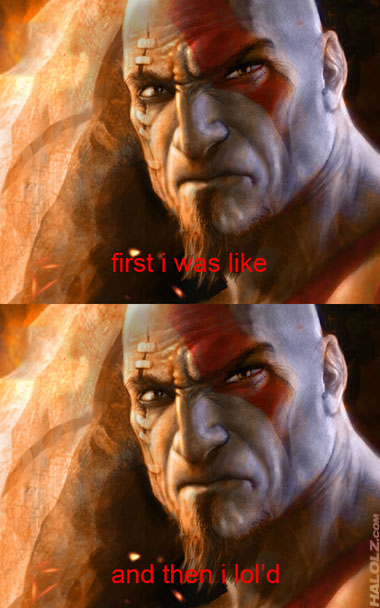 Kratos actually does enjoy a good laugh, he's just… laughing on the inside…
By SoupyTwist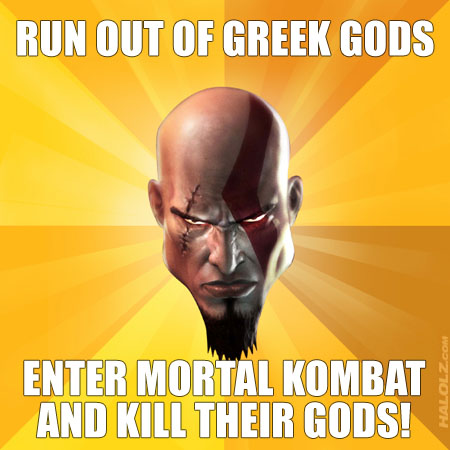 Usually when they throw some character from another game into a popular fighting game franchise it seems super weird… but man, Kratos just fits into the new Mortal Kombat perfectly!
Submission by Caelun_Niveus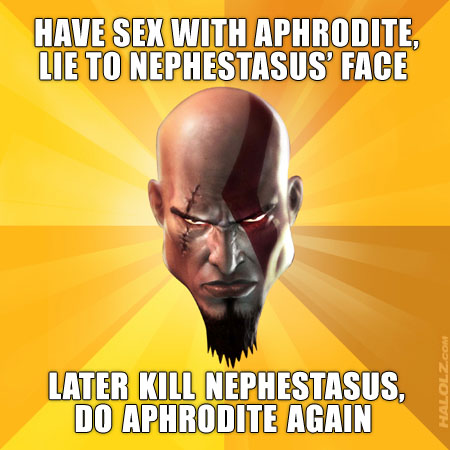 A man has needs! And Gods only fall for lies so often!
By Matt G-raffe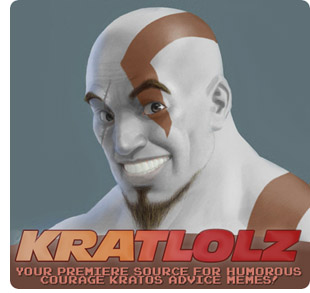 I've been thinking for a while about how the site doesn't really have much to do with Halo anymore… and people have mentioned it as well, so I've decided… why not rebrand the site to something a little more recent in video games? That's why I'm proud to announce that today Halolz is officially changing it's name to Kratlolz!
The all new Kratlolz will be your premiere source for video game humor for all your favorite games, including a wide variety of titles like God of War,  God of War 2, God of War 3, God of War: Chains of Olympus, God of War: Betrayal, God of War: Ghost of Sparta… and even other lesser known titles like Hot Shots Golf and the latest Mortal Kombat title! Really the entire world of video gaming is now covered!
I hope you guys are as excited about the new site as I am!
Keep those great Kratos themed submissions coming!
[Super cheeful Kratos artwork by horn-dogs, submitted by Franziska]
*NOTE IF YOU DON'T SEE OUR AWESOME NEW BANNER ARTWORK YOU MAY NEED TO HIT REFRESH A BUNCH OF TIMES!
I know how much you guys love Kratos, so when I heard a website called IDDQD had taken the liberty of photoshopping him into a bunch of other games, I figured you guys would be thrilled to see the results!
[via Joystiq]
Talk about taking all the fun out of a franchise!
By AGTURbo