I wish this were a real mini-game so bad! Imagine eight people on tricycles racing around a mall full of zombies! Maybe throw in some banana peels and mushrooms and you've got a standalone game!
By Hamiltonizer
"Why are… why are you ALWAYS wearing ladies clothing?"
Another Best Friends video by theswitcher, submitted by Matt K. and Cody T.
He's a loner. A rebel. And in a world gone mad, he's the best we've got.
A classic Protomen reference found by Scott
Hey yeah… wait a minute. What is he naturally immune or something? No wonder he's the only one brave enough to leave the saferoom!
You know what makes ME angry? Seeing that goddamn tip every time the loading screen comes up! Come on there are so many other tips you could show! I GET IT ALREADY, IF I DOWN TOO MUCH VODKA I'LL START VOMITING! I GET IT!!
No zombie's gonna break my stride! No zombie's gonna slow me down! Oh no!
I gotta keep on movin'!
Captured animation by Amrosorma
No. NO. NOOOOOOOOOOOOOOooooooooo
That is NOT a toy you should bring back to the saferoom for Katey!
By Xeno_Bryan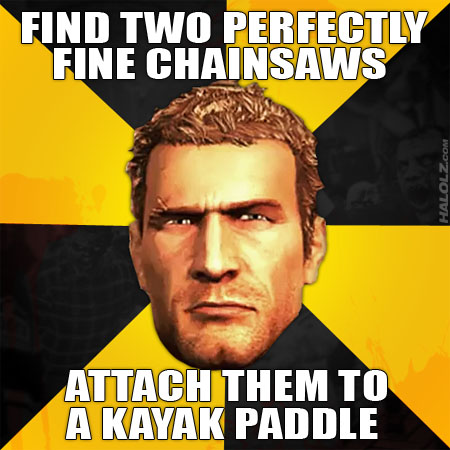 Daddy can fix anything! But really, do you need to FIX a chainsaw? It's already a pitiless, elegant zombie killing machine. The Bender of the 20th century!
By Mr.Raccoon