The Soldier's so cool, he doesn't even need to look at all those explosions!
By jestemnoobem, submitted by Zach H.
Clothing only slows him down! Ha HA! Dangley parts!
By Rebbacus, submitted by Psycroc
Little did they know, while we were infiltrating the robots, the robots were infiltrating us!
By SUPERMARIOGALAXY13
Would the Pyro have been more appropriate in this Borderlands 2 crossover? That my friends, I will leave up to you to debate.
By donned
Engineers excel at solving practical everyday problems… like wiping that smirk off his neighbors face by blowing up all of 2Fort!
By monkeyjunkie160, submitted by Skrist
Thanks to the marvels of Source Filmmaker, we can update all those timeless video classics… like the ever popular(?) "Vicious Cycle" TF2 videos!
By Some1CP, submitted by Robert M,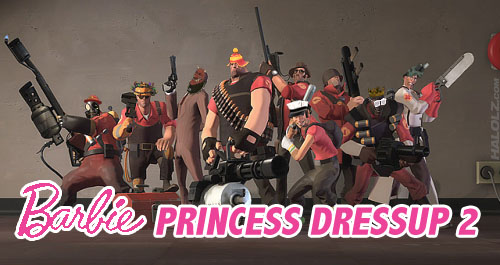 TF2 may be the place for fashionable hats, but we're still waiting on a PNK Team.
The Engineer and Pyro… BFF's in this video by CosmoDrazi!