I remember staying up late at night playing Super Mario 3… hopped up on caffeine.
It was not quite this much caffeine though!
Submitted by Lysander1985
What, you want to go left? That my friend, is the dream of a madman.
By RockyPlanetesimal, submitted by Irving R.
I don't want to say Nintendo is making their games too easy, but in this video by Tyndis, Luigi finally gets his shining moment by defeating three easy level AI opponents in Mario Party without the player even touching the controller (except to start the mini-games).
[via Kotaku]
Think a video about a Portal version of SMB is crazy? It's an actual game!
By Stabyourself.net, submitted by FrEEz
Oh and if that's not enough, here's a typical MariO pro shot.
A truly crushing realization… Luigi will never win, no matter the circumstances!
By Bryan Lacie [KakuJomics]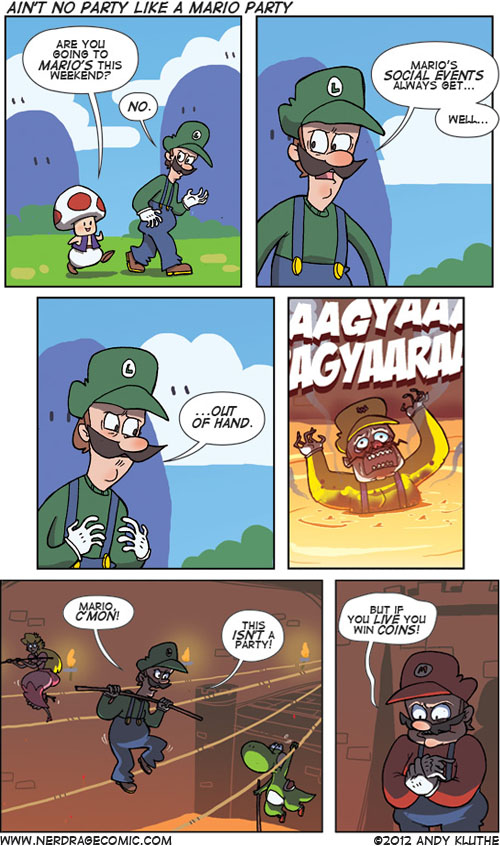 Jesus it's not hard, just put out some cheese dip and play some music!
No lava pits required!
Another great comic by Andy Kluthe [Nerd Rage], submitted by Greg B.
This rap battle seems improbable… yet it's entertaining none-the-less!
By Nice Peter and EpicLLoyd, submitted by Richard F.
Take the following scene from The Legend of Zelda: Skyward Sword, swap out Groose, ???, profit!
I love it when a meme comes together!

Mann Co. overnight delivery!
By SUPERMARIOGALAXY13, submitted by Caelun_Niveus

The Legend of Scout: Skyward Heavy
By TheBryceanater

The Legend of Ace Attorney: Skyward Turnabout
By nextgenerationlibert

The Legend of Falcon – Skyward Punch
By JimHeadshot

The Legend of Morshu: Mid-Air Shopkeeper
By BlinkingBulbStudios

The Legend of Coward: Skyward Beware
By waxination

I'm surprised Link even saw this guy coming…
By waxination

The Legend of Zelda: Skyward Dinner
By Spinellization

And one good punch deserves another!
By OV3RTUR3