It is a well known fact that the louder you yell during battle, the more effective Xin Zhao's attacks will be!
By CholeraNinja, submitted by several people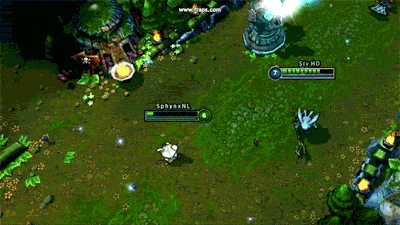 In League of Legends, a good teammate will help block Caitlyn's ultimate shot. Fizz the trickster however prefers trolling Teemo!
By Gustavo R.
April 2, 2012 by Shawn Handyside
Filed under Animated, League of Legends, Magic Powers, Massive Damage, Ninjas, Robots, Smashy Smashy, Sneak Attack, Special Attacks, Swordplay, Video Clips
League champs have some pretty cool special attacks, but I guess it doesn't matter how many you know when you're up against the Might of Demacia.
By FlyingPanda1990, submitted by Matthew W.