Oh TF2… your crazy Mann Co.  items will be the death of me!
At least we're getting some decent entertainment out of these virtual wedding rings.
Image by MaxOfS2D, video by SirKemper1

| | |
| --- | --- |
| | Posted by Shawn Handyside on February 17, 2012 · 1:27 AM |
Categories:
Holidays, Incoming Transmission, Off Duty, PC, Playstation, Secret Items, Strike A Pose, Team Fortress 2, True Love, Valentine's Day, Valve Software, Video Clips, Xbox 360

·




Share





Somebody set us up the love.
By theicecapsaremelting

| | |
| --- | --- |
| | Posted by Shawn Handyside on February 16, 2012 · 6:33 AM |
Categories:
Genesis, Holidays, Incoming Transmission, Retro, True Love, Valentine's Day, Zero Wing

· Leave a comment () 52 Comments




Share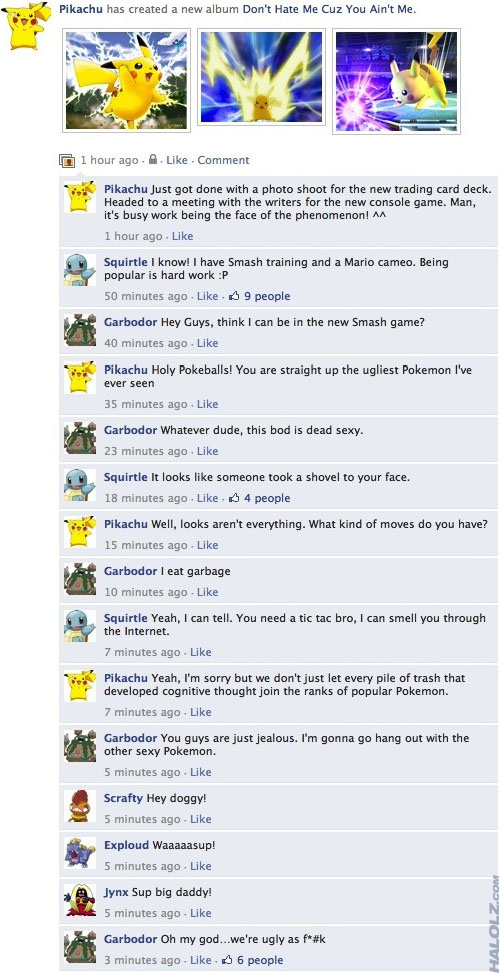 Garbodor, too ugly for even the internet.
Submitted by MrNaleIt

| | |
| --- | --- |
| | Posted by Shawn Handyside on February 8, 2012 · 12:17 PM |
Categories:
Chillaxin', Depressing, Incoming Transmission, Internets, Nintendo, Off Duty, Pokémon, Stinky

· Leave a comment () 123 Comments




Share





Is this part of the scumbag meme, or is this more of a Pokemon first world problem?
Either way, even with free healthcare I can't help but get mad mashing the A button at the Pokemon Center.
By RoachOnATree0116

| | |
| --- | --- |
| | Posted by Shawn Handyside on January 17, 2012 · 10:29 PM |
Categories:
Anime, Incoming Transmission, Nintendo, Obnoxious, Pokémon, Scumbag, TV Shows

· Leave a comment () 75 Comments




Share





Have you been following the Ocean Marketing stuff today? If so you will enjoy this video by my pal Anthony! [New Challenger]

| | |
| --- | --- |
| | Posted by Shawn Handyside on December 27, 2011 · 8:14 PM |
Categories:
Accessories, Bad Ideas, Incoming Transmission, Obnoxious, Rage Enducing, Serious Business, Video Clips

· Leave a comment () 49 Comments




Share





Huh, turns out my Morbo quote had already been mashed up with Skyrim! Go figure!
By thomiduvigneau

| | |
| --- | --- |
| | Posted by Shawn Handyside on December 22, 2011 · 1:54 PM |
Categories:
Aliens, Bethesda, Incoming Transmission, PC, Playstation, The Elder Scrolls, The Simpsons / Futurama, TV Shows, Video Clips, Weak Points, Xbox 360

· Leave a comment () 40 Comments




Share





Yes, Spike's Video Game Awards are pretty much the worst thing ever… but if they have one redeeming quality it's that they result in these cool "Best Character of the Year" nominee videos getting made!
Also goddamn I hate working with YouTube sometimes, sorry for the " target="_blank">embedding problems.

| | |
| --- | --- |
| | Posted by Shawn Handyside on December 17, 2011 · 3:00 AM |
Categories:
Epic Games, Explosives, Failure, Fists of Fury, Heavy Weapons, Incoming Transmission, Massive Damage, Off Duty, PC, Playstation, Rage Enducing, Smashy Smashy, Sony, Superheroes/Supervillains, TV Shows, Valve Software, Video Clips, Xbox 360

· Leave a comment () 53 Comments




Share





Egoraptor's new series Sequelitis is so good. How good is it? If this video doesn't blow your mind even a little bit, you have no soul. JUMP'NSHOOT MAN!

| | |
| --- | --- |
| | Posted by Fred "Trunks" Wood on November 3, 2011 · 11:51 PM |
Categories:
Capcom, Incoming Transmission, Mega Man, NES, Obnoxious, Rage Enducing, Retro, Robots, SNES, Tips & Tricks, Uncategorized, Video Clips

· Leave a comment () 116 Comments




Share




« Previous Page — Next Page »