Thanks to the marvels of Source Filmmaker, we can update all those timeless video classics… like the ever popular(?) "Vicious Cycle" TF2 videos!
By Some1CP, submitted by Robert M,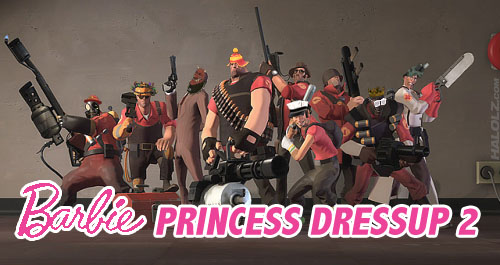 TF2 may be the place for fashionable hats, but we're still waiting on a PNK Team.
The Engineer and Pyro… BFF's in this video by CosmoDrazi!
While trying out the new Source Filmmaker, our buddy Doc_ock_rokc illustrates one of my favorite Heavy quotes perfectly!
Collect them all? You sir are dreaming the impossible dream!
By burningfajitasalt, submitted by Arthur C.
Part of a balanced breakfast!
Maybe Scout brought him some Mad Milk? Although I certainly didn't see any scouts!
I'm pretty sick of hats, but I would damn well pay for this!
Artist unknown, submitted by several people
www.youtube.com/watch?v=QwNVQvygCNQ
Multikill!
By CorridorDigital