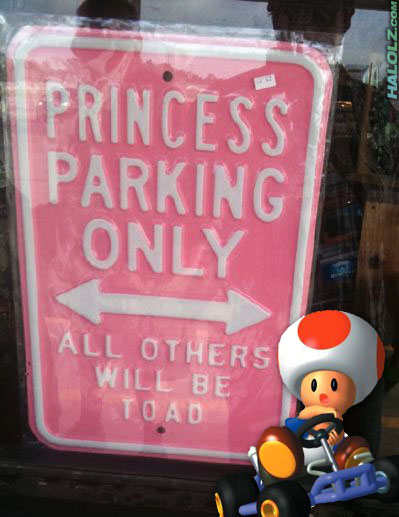 Now that's an interesting typo…
Photo by PsyGuy, submitted by Scott

| | |
| --- | --- |
| | Posted by Shawn Handyside on July 21, 2010 · 1:57 AM |
Categories:
Bad Grammer, Mario Kart, Moving Violations, Nintendo, Photo Op

·




Share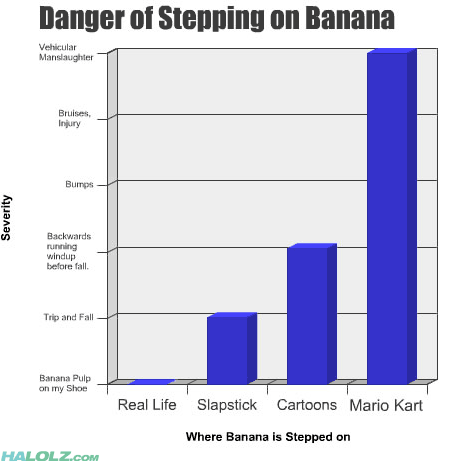 Mario Kart… making fruit exponentially more dangerous for your health!
By Corey Van Slyke

| | |
| --- | --- |
| | Posted by Shawn Handyside on November 26, 2009 · 8:17 AM |
Categories:
Charts & Graphs, Depressing, Mario Kart, Nintendo, Secret Items

· Leave a comment () 1 Comment




Share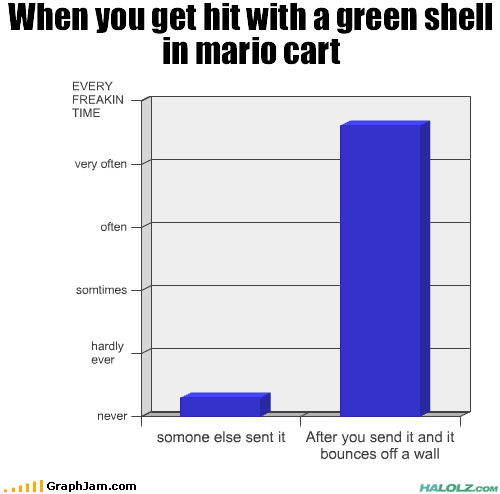 Accurate chart is accurate!
Submitted by Corey Van Slyke

| | |
| --- | --- |
| | Posted by Shawn Handyside on October 27, 2009 · 1:18 PM |
Categories:
Bad Grammer, Charts & Graphs, Depressing, Mario Kart, Nintendo, Power-Ups

· Leave a comment () 82 Comments




Share





Another Brentalfloss classic, submitted by Makin poring

| | |
| --- | --- |
| | Posted by Shawn Handyside on October 13, 2009 · 5:58 PM |
Categories:
Fashion Faux Pas, Mario Kart, Musical, NES, Nintendo, SNES, Super Mario Bros, The Legend of Zelda, TV Shows, Video Clips

· Leave a comment () 107 Comments




Share





Mama mia! Finally, a high-speed Hollywood racing movie I can get behind!
By DrCoolSex

| | |
| --- | --- |
| | Posted by Shawn Handyside on August 31, 2009 · 2:42 PM |
Categories:
Head Shot, Mario Kart, Moving Violations, Nintendo, Power-Ups, Racing, Super Mario Bros, Too Much Free Time, True Love, Video Clips

· Leave a comment () 73 Comments




Share





Not really a joke per se, but friend and Halolz submitting regular Trunks wanted me to mention his new Counter-Strike Source map based on a very familiar Mario Kart 64 level. Do the kids still play the Counter-Strikes? Honestly I'd like to see this as a TF2 map!
Well anyway I thought it was kind of a cool idea, so check it out!

| | |
| --- | --- |
| | Posted by Shawn Handyside on July 27, 2009 · 2:20 PM |
Categories:
Counter Strike, Cray-Z Crossovers, Haxorz, Mario Kart, No Caption Needed, PC, Valve Software

· Leave a comment () 36 Comments




Share





In real life banana peels are not nearly as effective as we'd like them to be…
By Rémi Gaillard

| | |
| --- | --- |
| | Posted by Shawn Handyside on December 11, 2008 · 6:43 AM |
Categories:
Awkward Moments, Cosplay, Foreign Object, Mario Kart, Moving Violations, N64, Nintendo, Power-Ups, Racing, Super Mario Bros, The Great Outdoors, Too Much Free Time, Video Clips

· Leave a comment () 38 Comments




Share





Wow….. Blinktwice4y is pretty hardcore. Oh sure I love Alyssa, but I don't think I'd take a blue shell for her. Also this gets the "Creepy" tag for that weird mustache.

| | |
| --- | --- |
| | Posted by Shawn Handyside on December 6, 2008 · 12:48 AM |
Categories:
Audio Clips, Creepy/Spooky, Mario Kart, Nintendo, Rockin' Out, True Love, Video Clips

· Leave a comment () 27 Comments




Share




« Previous Page — Next Page »