He's here to kick ass and stand on lawns… and he's all out of lawns!
By FineLeatherJackets, submitted by several people (tagline provided by ChitterChatter!)

| | |
| --- | --- |
| | Posted by Shawn Handyside on March 30, 2011 · 10:27 AM |
Categories:
Aerial Maneuvers, Dinosaurs, Duke Nukem, Half-Life, Heavy Weapons, Left 4 Dead, Moving Violations, PC, Robots, Swordplay, Valve Software, Video Clips, Zombies

·




Share





Remember a while back we posted the cover art for a L4D2/Minecraft crossover called Mines of the Living Dead? Well good news, the first level of the campaign is complete and ready for downloading! (Also it includes a survival mode map!) Next up, Miclee will be taking the surviors out of the caves to the Minecraftey outdoors!

| | |
| --- | --- |
| | Posted by Shawn Handyside on March 15, 2011 · 2:16 PM |
Categories:
Cray-Z Crossovers, Creepy/Spooky, Haxorz, Left 4 Dead, Minecraft, PC, Teamwork, Valve Software, Video Clips, Xbox 360, Zombies

· Leave a comment () 42 Comments




Share





Welcome to Halolz Spray Pack #2! After nine years in development, hopefully it was worth the wait!
Remember these sprays can be used on any of Valve's Source games, including Team Fortress 2 and Left4Dead! And installation is fairly painless!
And don't forget about our first spray pack! You can grab them both right here:
• Halolz Spray Pack #1
• Halolz Spray Pack #2

| | |
| --- | --- |
| | Posted by Shawn Handyside on January 5, 2011 · 2:46 AM |
Categories:
Artistic, Cover Art, Fashion Faux Pas, Gentlemen, Half-Life, Heavy Weapons, Left 4 Dead, Movies, Musical, Nintendo, PC, Playstation, Secret Items, Sequential Art, Strike A Pose, Team Fortress 2, The Legend of Zelda, Uncategorized, Valve Software, Xbox 360, Zombies

· Leave a comment () 14 Comments




Share





Unfortunately even being one letter off can make a huge difference in the final product!
From G4's The Feed, submitted by GoldenMetroid117

| | |
| --- | --- |
| | Posted by Shawn Handyside on December 11, 2010 · 10:59 PM |
Categories:
Activision, Bethesda, Bungie, Cover Art, Depressing, Fallout, Halo, In My Pants, Left 4 Dead, Microsoft, PC, Playstation, PopCap, Uncategorized, Valve Software, Weird, Wild Animals, Xbox 360, Zombies

· Leave a comment () 98 Comments




Share





God DAMMIT… we're never going to get Episode 3 at this rate! Someone tell that Spy to stop harassing Gaben!
By ManualMonaro

| | |
| --- | --- |
| | Posted by Shawn Handyside on December 11, 2010 · 6:23 AM |
Categories:
Bad Ideas, Explosives, Half-Life, Left 4 Dead, Musical, PC, Playstation, Team Fortress 2, The Great Outdoors, Valve Software, Video Clips, Weird, Xbox 360

· Leave a comment () 48 Comments




Share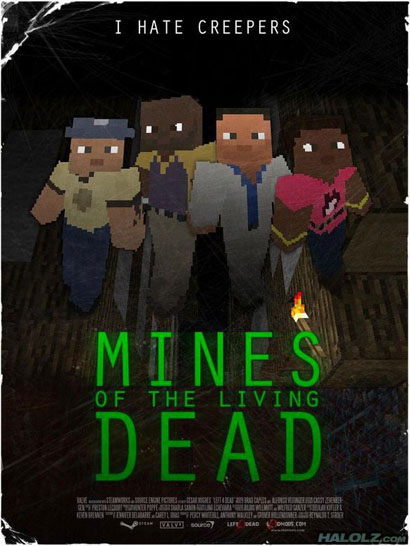 Good idea Ellis, we'll hide underground! Zombies never show up in dark confining places!
The cover art to an upcoming Minecraft themed Left4Dead campaign by Miclee!
Poster artwork by Snowman and SMP, submitted by CdiGanon

| | |
| --- | --- |
| | Posted by Shawn Handyside on November 21, 2010 · 12:35 AM |
Categories:
Cover Art, Cray-Z Crossovers, Left 4 Dead, Minecraft, Movies, PC, Valve Software

· Leave a comment () 47 Comments




Share





I always wondered where that image came from! But… does that mean some kind of time travel was involved? I will assume yes!
By Falconer02

| | |
| --- | --- |
| | Posted by Shawn Handyside on October 17, 2010 · 4:48 PM |
Categories:
Animated, Artistic, Explosives, Fists of Fury, Head Shot, Heavy Weapons, Left 4 Dead, Massive Damage, Photo Op, Publishers, Things Are Heating Up, Valve Software, Video Clips, Zombies

· Leave a comment () 70 Comments




Share





I had no idea Valve was so ahead of their time! I should have picked these games up the first time around!
By Gamervision

| | |
| --- | --- |
| | Posted by Shawn Handyside on September 3, 2010 · 9:08 AM |
Categories:
Accessories, Apple, Awkward Moments, G-g-g-ghost!, Left 4 Dead, NES, PC, Portal, Retro, Serious Business, TV Shows, Valve Software, Video Clips, Zombies

· Leave a comment () 62 Comments




Share




« Previous Page — Next Page »