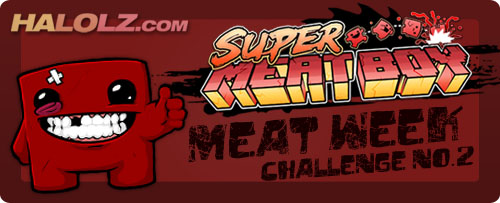 Yep I know, Meat Week has been quite a bit longer than a week! Mainly this is due to me being distracted by several other side things going on… but hey, I planned three meaty challenges and by gosh we're gonna do them!
So now for challenge #2, you the Halolz community, are tasked with making your best Super Meat Boy themed submission!
Really for this one anything goes creatively, but for those of you who just need something basic to caption, I've provided two premade advice templates that you can caption yourself! And if you need help adding captions you can use sites like roflbot (although be sure to switch watermarking off!) or you can just type up your caption and send it in, and if it's good enough we'll put it together for you! Otherwise anything goes, and the best three chosen by myself will receive a pack of Meat Boy prizes!
Also for this contest, your meat boy themed submissions should be sent to contests[at]halolz.com! You have until Friday to get your submissions in, and we'll choose winners on Monday! Good luck!

| | |
| --- | --- |
| | Posted by Shawn Handyside on March 8, 2011 · 6:49 AM |