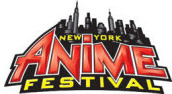 Before I forget to mention it, New York Anime Festival… this weekend… New York City. I'll be there. WILL YOU?
Not only is this an excellent opportunity for you to make fun of me in person, but I'll also have Wolf stickers and a new and improved version of the Halolz poster… neither of which are available online yet! Speaking of which I should probably get that stuff up for sale online so I can start paying for this expensive new private server I had to move the site to! >___<
Well anyway, stop by and say hello! I'll be in the small press area (booth 103 and 105). Also stop by and wish my sister Sarah (a NYC local) a happy birthday because her birthday is that weekend and she's going to be wasting her precious weekend helping me! In fact here are some photos she took of the convention last year! You tell me that doesn't look like a fun convention!
Also: I have a Twitter account now… if any of you are in to that sort of thing! Microblogging is THE COOLEST!

| | |
| --- | --- |
| | Posted by Shawn Handyside on September 23, 2008 · 2:57 AM |