You don't know me!
But yes… yes I do.
Shut up old man I've known how to throw balls at wild animals for years!
Just one though! Save some for the other heroes of Hyrule!
From Obvious Winner [via Gamefreaks]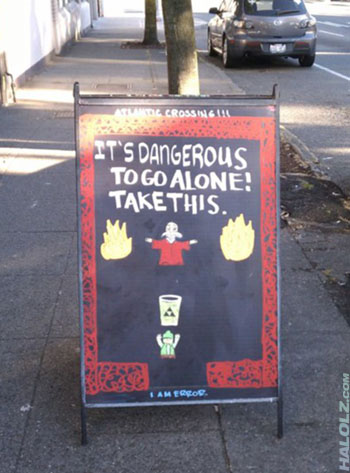 Dah da da daaaaaahh! *slurp*
Photo by Izick
It's dangerous to go alone… use the tri-force Link!
By kerTrek
Poor old Daycare Man… he's grown so senile he's forgotten the birds and the beedrills!
By Tommy T.
ALRIGHT MAGIKARP! HIT 'EM WITH A SPLASH ATTACK!!
'Cause I mean, you kind of have to… it's not like we have any other options!
By Smosh [via Destructoid]
Some people like a challenge. Not me though, I like my games nice and easy!
By CollegeHumor