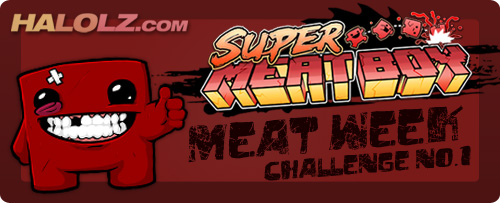 Okay, first up in our Meat Week challenges… we've got eight copies of Super Meat Boy to give away! (Four for Xbox 360 and four for PC through Steam). If you haven't picked up Super Meat Boy yet, now is the perfect time to win yourself a free copy!
So how do you win? Well this challenge is actually quite easy… we'll be giving them away randomly to members who "like" the Halolz Fan Page and the Level Up Studios Fan Page on Facebook! (Four on Halolz and four on Level Up). However the catch is, you also have to share this post on Facebook by clicking the blue share button in the bottom right corner of this post!
The sharing part may seem tedious, but it will actually mean that your odds of winning are way higher since you won't have to compete with all 9,400+ Halolz fans on Facebook! (Speaking of which, isn't it crazy the site has almost 10,000 fans on Facebook?)
Anyway, that's all you have to do! You have 48 hours starting now to enter! Good luck! And be sure to MEAT the requirements!
—-
Our winners have been chosen! Congratulations to Stephanie T, Robby G, Michael M, George E, Mike T, Jimmy B, Jonathan L and Becca K!

| | |
| --- | --- |
| | Posted by Shawn Handyside on February 24, 2011 · 9:48 AM |
Categories:
Contests, Internets, News, PC, Sponsors, Super Meat Boy, Team Meat, Xbox 360

·




Share





Are you a fan of Super Meat Boy? I imagine you are if you like games enough to read this site everyday! However on the off chance that you've been living under a rock, Super Meat Boy was one of 2010's hottest indie games to invade the 360 and PC last summer!
And now, with their release of over 80 new FREE DLC levels on Xbox (soon on PC) we're celebrating MEAT WEEK here on Halolz, so the few that missed out on this awesomely difficult platformer will have a chance to win some MEATY PRIZES!
Of course that doesn't mean you have to wait to pick up a copy of the game on Xbox Live or Steam! In fact you should do so right now!
Either way, stay tuned this week for some meat-tacular stuff!

| | |
| --- | --- |
| | Posted by Shawn Handyside on February 22, 2011 · 2:25 AM |
Categories:
Contests, News, PC, Sponsors, Super Meat Boy, Team Meat, Xbox 360

· Leave a comment () 53 Comments




Share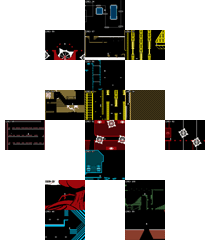 Hmm, haven't really done a general blog post in a while… but I've got a few things to mention so lets just cram them all in at once, shall we?
First my apologies for the updates being a little sparatic the last couple of days, we all came down with the flu last Thursday and it has not been pleasant (keep in mind I have a two year old daughter). Hmm, I wonder if I'm being punished for something? Nahhhhhh…
Next I wanted to mention that I will officially be at MAGFest this Jan 1st-4th in Virginia. MAGFest is unlike a lot of the shows I normally do, in that it's primary focus is video game music… which should be pretty awesome! I've wanted to make it out to this show for a few years now but it always lands on my birthday so it's been difficult to work it into my schedule… but this year I'm just going to suck it up, ditch my loving family, and spend my birthday at a video game festival! I'm such a good person! >__>
Speaking of the vidjeo games… I wanted to throw out a quick plug for a game I started playing recently called LOVE, which also happens to be made by my friend (and semi-regular Halolz submitter) Trunks. It's a fairly simple old skool platformer with a neat respawning twist and a kick-ass soundtrack, and most importantly… it's absolutely free! Pick it up if you have a sec!
And speaking of my friends, I wanted to mention that our friends at Yu-Gi-Oh Abridged are up for one of them there fancy internet awards (y'know like real awards except made out of electrons and magic!) If you're a fan of the series why not give them a vote?
Hmm, what else. Oh the Facebook page thing seems to be going really well, be sure to keep sharing your favorite submissions on there!
Oh and you may have heard that Valve is holding a propaganda contest for the TF2 Soldier/Demo War that's currently running… so uh, don't be surprised if you see a lot of these types of poster entries appearing on the site this week!
I think that's about it! See ya' Monday!

| | |
| --- | --- |
| | Posted by Shawn Handyside on December 14, 2009 · 12:26 AM |
Categories:
Anime, Conventions, Games, News, PC, Sponsors, Team Fortress 2, Valve Software

· Leave a comment () 14 Comments




Share






[UPDATE] Although it says the deadline has passed, I think you have at least another week to book a trip!
Wow, so I have some pretty awesome news… this month Halolz is being sponsored by Pop Japan Travel, a cool site which offers complete trips to Japan!
But even more exciting is their next trip, which not only takes you to Japan for nine days to see a ton of sights, but also gets you in to this year's Tokyo Game Show!
And to make things even better, we're running a special promotion for their Tokyo Game Show tour! Sign up for the TGS 2009 trip, and tell them you're signing up through Halolz, and you'll receive a special NINJA-BOT package featuring a t-shirt of your choice and a set of every sticker and pin we carry! Not a bad bonus, right? Of course it's not nearly as cool as the trip itself, but I mean free stuff is free stuff!
So yeah be sure to check it out, and if you have any questions about the Halolz bonus promotion just email us!

| | |
| --- | --- |
| | Posted by Shawn Handyside on August 11, 2009 · 2:18 AM |
Categories:
Anime, Conventions, Foreign Object, News, Sponsors

· Leave a comment () 27 Comments




Share