And that's why it's finally the year of Luigi.
By Luke Humhris

| | |
| --- | --- |
| | Posted by Fred "Trunks" Wood on October 3, 2013 · 1:00 PM |
Categories:
Backstab, Lucky Day, NES, Nintendo, Now We're Cookin', Super Mario Bros

·




Share





Nice jet you have there. I think I'll take it.
A sequel to Stungravy's extremely epic RendeZook! Submitted by several people.

| | |
| --- | --- |
| | Posted by Shawn Handyside on February 21, 2012 · 12:05 PM |
Categories:
Aerial Maneuvers, Electronic Arts, Head Shot, Highly Illogical Captain, Lucky Day, PC, Playstation, Uncategorized, Video Clips, Xbox 360

· Leave a comment () 95 Comments




Share





Okay guys… lets get these things out of our system okay? No more sending in Arrow To The Knee videos! Seriously. We've got enough!
By RageNineteen, EvilLuisito and psychicpebbles, submitted by everyone ever.

| | |
| --- | --- |
| | Posted by Shawn Handyside on January 3, 2012 · 5:35 AM |
Categories:
Animated, Bethesda, Lucky Day, Massive Damage, Obnoxious, PC, Playstation, Rage Enducing, The Elder Scrolls, TV Shows, Video Clips, Weak Points, Xbox 360

· Leave a comment () 74 Comments




Share





Morbo: "So… Humans have easily injured knees… My race will find this information very useful indeed! Muhuhahahaha!"
First pic artist unknown, submitted by Cameron K., second pic by TheHappyMarquis

| | |
| --- | --- |
| | Posted by Shawn Handyside on December 22, 2011 · 8:15 AM |
Categories:
Aerial Maneuvers, Artistic, Bethesda, Cray-Z Crossovers, Cutesy Wutesy, Failure, Lucky Day, Nintendo, Pokémon, Sequential Art, Sneak Attack, Strike A Pose, The Elder Scrolls, Tips & Tricks, Weak Points

· Leave a comment () 39 Comments




Share





I have a rocket launcher, your jet is invalid. I love it when a plan comes together!
By Stungravy, submitted by Lucky and Doc Ock Rokc

| | |
| --- | --- |
| | Posted by Shawn Handyside on December 12, 2011 · 12:27 AM |
Categories:
Aerial Maneuvers, Electronic Arts, Explosives, Heavy Weapons, Lucky Day, PC, Playstation, Tips & Tricks, TV Shows, Uncategorized, Video Clips, Xbox 360

· Leave a comment () 79 Comments




Share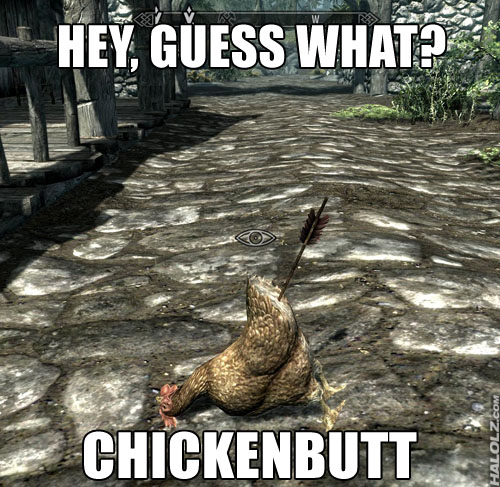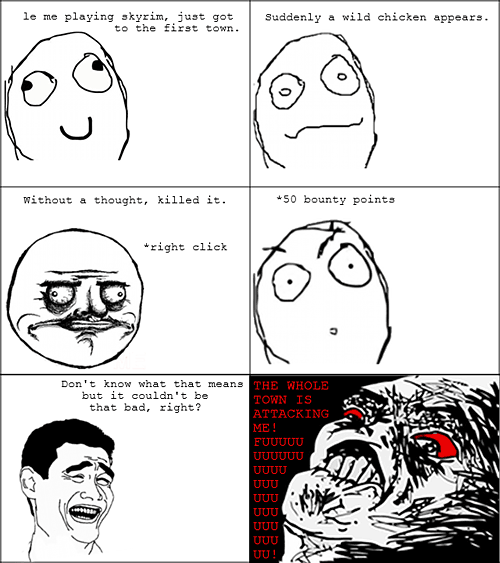 Great shot kid, that was one in a million!
Screenshot by OatmealRaisin, found by smashpro1
Rage comic by SummerDays, submitted by Emily Carlsen

| | |
| --- | --- |
| | Posted by Shawn Handyside on November 14, 2011 · 9:14 AM |
Categories:
Bad Ideas, Bethesda, Lucky Day, PC, Playstation, Rage Faces, Sequential Art, The Elder Scrolls, Wild Animals, Xbox 360

· Leave a comment () 121 Comments




Share






Behold, the first opponent to ever withstand and defeat a falcon punch! Has the Captain finally met his match?
By Bryan Lacie [KakuJomics], submitted by Vatonnage

| | |
| --- | --- |
| | Posted by Shawn Handyside on September 30, 2011 · 12:03 PM |
Categories:
Artistic, Bulking Up, F-Zero, Failure, FALCON PAAAANCH, Fists of Fury, Kirby, Lucky Day, Massive Damage, Nintendo, Pokémon, Sequential Art, Smashy Smashy, Sneak Attack, Special Attacks, Strike A Pose, Super Smash Bros

· Leave a comment () 159 Comments




Share





Don't drink and Demo.
By josher44

| | |
| --- | --- |
| | Posted by Shawn Handyside on September 23, 2011 · 1:08 AM |
Categories:
Bad Ideas, Drugs & Alcohol, Lucky Day, PC, Playstation, Team Fortress 2, Valve Software, Video Clips, Xbox 360

· Leave a comment () 52 Comments




Share




Next Page »