The force is strong with this one.
By jnkboy

| | |
| --- | --- |
| | Posted by Shawn Handyside on May 12, 2012 · 8:33 PM |
Categories:
Artistic, Bungie, Cover Art, Cray-Z Crossovers, Halo, Mass Effect, Metroid, Microsoft, Movies, Nintendo, No Caption Needed, Phantasy Star Online, Retro, Sega, Space Invaders, Star Wars, StarFox, Strike A Pose, Taito, Uncategorized

·




Share





You are defeated Shepard! Instead of shooting where I was, you should have shot at where I was going to be! -Lrrr
By Save and Quit

| | |
| --- | --- |
| | Posted by Shawn Handyside on March 20, 2012 · 11:50 AM |
Categories:
Aliens, Artistic, BioWare, Cray-Z Crossovers, Mass Effect, No Caption Needed, Retro, Space Invaders, Taito

· Leave a comment () 48 Comments




Share





Some people like a challenge. Not me though, I like my games nice and easy!
By CollegeHumor

| | |
| --- | --- |
| | Posted by Shawn Handyside on February 13, 2011 · 5:01 PM |
Categories:
Aliens, Arcade, Atari, Bad Ideas, Contra, Genesis, Heavy Weapons, Kickin' It, Konami, Mario Kart, Mii's, Mortal Kombat, Moving Violations, Namco, NES, Nintendo, Overkill, Pac-Man, Pong, Punch Out, Racing, Rare, Retro, Secret Items, Sega, Smashy Smashy, SNES, Sonic the Hedgehog, Space Invaders, Taito, Teamwork, Tetris, The Legend of Zelda, Uncategorized, Video Clips, Wii, Williams/Midway

· Leave a comment () 119 Comments




Share





Should it worry me that this song sums up my entire life in four minutes? Nah…
By PopeFriction, submitted by KHPandaZ and smashpro1

| | |
| --- | --- |
| | Posted by Shawn Handyside on December 15, 2010 · 10:21 PM |
Categories:
Accessories, Activision, Arcade, Atari, BioWare, Blizzard, Bomberman, Bungie, Call of Duty, Capcom, Castlevania, Christmas, Donkey Kong, Doom, Dreamcast, Duke Nukem, Electronic Arts, Fallout, Final Fantasy, Gameboy, Genesis, God of War, Grand Theft Auto, Guitar Hero/Rock Band, Half-Life, Halo, ID Software, Kingdom Hearts, Kirby, Konami, LucasArts, Mario Kart, Mass Effect, Maxis, Mega Man, Metal Gear Solid, Metroid, Microsoft, Monkey Island, Mortal Kombat, Musical, N64, Neo Geo, NES, Nintendo, Nintendo DS, Oregon Trail, Pac-Man, PC, Playstation, Pokémon, Political, Pong, Prince of Persia, Rare, Red Ring of Death, Resident Evil, Retro, Sega, SimCity/The Sims, SNES, Sonic the Hedgehog, Sony, Space Invaders, Square Enix, Star Wars, Starcraft, StarFox, Super Mario Bros, Super Smash Bros, Systems, Tetris, The Legend of Zelda, Things Are Heating Up, Tomb Raider, TV Shows, Ubisoft, Uncategorized, Video Clips, Wii, Williams/Midway, World of Warcraft, Xbox 360

· Leave a comment () 68 Comments




Share





Wow, those things look totally different when you get close to them! Well whatever… drop down, increase speed and reverse direction!
By Great-OHARU

| | |
| --- | --- |
| | Posted by Shawn Handyside on November 23, 2010 · 11:21 PM |
Categories:
Aliens, Artistic, Extreme CloseUp, Heavy Weapons, Retro, Space Invaders, Williams/Midway

· Leave a comment () 48 Comments




Share





This is why you're supposed to properly recycle your electronics.
By French visual effects company Onemoreproduction, submitted by Adam and killercartoons
Also not to go TOO nerdy on you, but technically this video is about voxels, not pixels!
You see because pixels are two-dimensional and voxels are "volumetric pixels" which would be a pixel's 3D equivalent.
So yeah don't say you never learned anything by reading this site! We're here to entertain AND educate!

| | |
| --- | --- |
| | Posted by Shawn Handyside on April 9, 2010 · 11:57 AM |
Categories:
Animated, Donkey Kong, Explosives, Massive Damage, Namco, Nintendo, Pac-Man, Retro, Smashy Smashy, Space Invaders, Taito, Tetris, The Great Outdoors, Uncategorized, Video Clips, Weird

· Leave a comment () 54 Comments




Share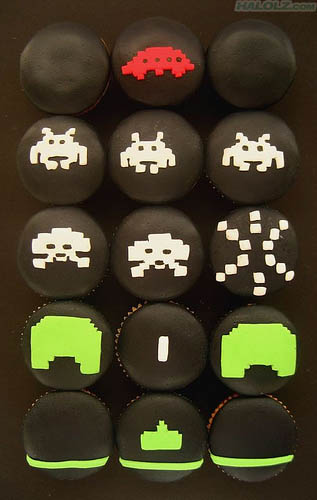 Ok, I swear this is the last batch of delicious video game themed cupcakes by Naomi. DROP DOWN, INCREASE SPEED AND REVERSE DIRECTION!!

| | |
| --- | --- |
| | Posted by Shawn Handyside on August 24, 2008 · 2:16 PM |
Categories:
Aliens, Artistic, No Caption Needed, Retro, Space Invaders, Taito, Tasty Treats, Too Much Free Time, Williams/Midway

· Leave a comment () 41 Comments




Share