You may recall a while back I posted about a Kickstarter by our friend Mike who was developing a puzzle game for iOS called Professor Cat's Mazing Machine. Well I wanted to let everyone know that it's now available in the iTunes Store for a mere 99 cents!
Too pricey you say? Well that's crazy talk… but just in case you are so broke you can't buy a $1 puzzle game for your $400 iPhone, I'm going to hide some codes in the comments of this post for some free copies! Enjoy! And hey if you like the game, tell your friends!

| | |
| --- | --- |
| | Posted by Shawn Handyside on September 18, 2012 · 6:22 PM |
Categories:
Apple, Games, LOLCATS, Uncategorized

·




Share





Internet memes on the TV? Well there goes the planet.
From the MAD animated series, submitted by everyone.

| | |
| --- | --- |
| | Posted by Shawn Handyside on September 29, 2011 · 1:46 PM |
Categories:
Animated, Cray-Z Crossovers, Disguises, Explosives, Internets, It's A Trap!, Lasers, LOLCATS, Minecraft, My Little Pony, Stabbey Stabbey, Swordplay, TV Shows, Video Clips, Weird

· Leave a comment () 112 Comments




Share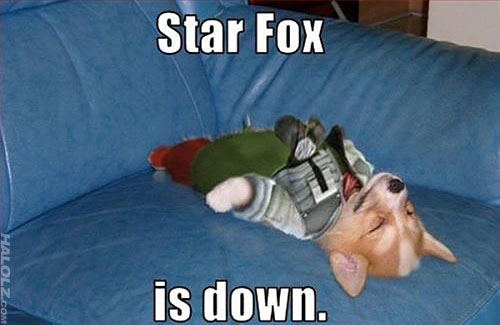 It's a classic, but it seemed appropriate with Star Fox 64 3D just being released!
By the way, I know exactly who shot down his arwing!
Submitted by Lysander1985

| | |
| --- | --- |
| | Posted by Shawn Handyside on September 11, 2011 · 8:37 AM |
Categories:
Cutesy Wutesy, Disguises, LOLCATS, Nintendo, Photo Op, StarFox

· Leave a comment () 49 Comments




Share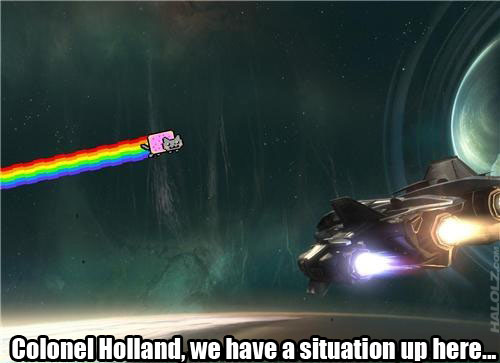 Colonel, sensors indicate a breakfast pastry feline traveling at the speed of rainbow has entered our perimeter!
Ensign, set phasers to "YUM."
By Matt Hunter

| | |
| --- | --- |
| | Posted by Shawn Handyside on June 5, 2011 · 7:07 PM |
Categories:
Aerial Maneuvers, Bungie, Cray-Z Crossovers, Cutesy Wutesy, Halo, LOLCATS, Microsoft, Xbox 360

· Leave a comment () 141 Comments




Share





Daaaaaw. On an unrelated note, I have to go dress up my cats like Deadpool and Dr. Doom and have them fight to the death!
By suzuran, submitted by Dr. Furry



| | |
| --- | --- |
| | Posted by Shawn Handyside on March 10, 2011 · 3:37 AM |
Categories:
Artistic, Capcom, Cutesy Wutesy, Darkstalkers, LOLCATS, Mega Man, Street Fighter, Superheroes/Supervillains, Too Much Free Time, Uncategorized, Vs Series

· Leave a comment () 37 Comments




Share





Okay at first I was pretty horrified by this… fortunately the image was 'shopped!
By Sydney [via Neatorama]

| | |
| --- | --- |
| | Posted by Shawn Handyside on February 10, 2011 · 12:13 PM |
Categories:
Cutesy Wutesy, Disguises, LOLCATS, Nintendo, Photo Op, Pokémon, Weird, Wild Animals

· Leave a comment () 128 Comments




Share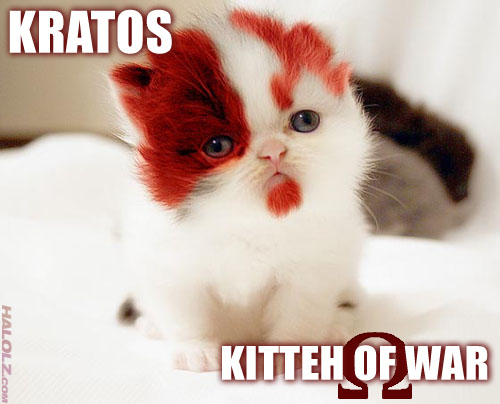 Daaaaaaaaaaw. Not even the Gods themselves are a match for little Kratos' photoshopped cuteness!
Image by tf2fan [via Reddit]

| | |
| --- | --- |
| | Posted by Shawn Handyside on August 29, 2010 · 1:32 AM |
Categories:
Cutesy Wutesy, Disguises, God of War, LOLCATS, Photo Op, Sony

· Leave a comment () 45 Comments




Share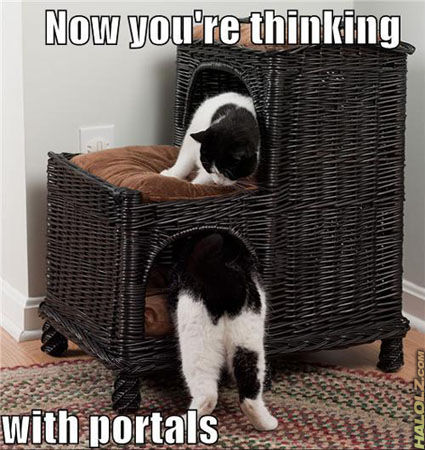 Not surprising… it is a well known fact that cats are well versed in portal physics!
By Andy and KF, submitted by Silver Fox and Data Forgotten

| | |
| --- | --- |
| | Posted by Shawn Handyside on July 2, 2010 · 5:37 AM |
Categories:
LOLCATS, Photo Op, Portal, Valve Software

· Leave a comment () 46 Comments




Share




Next Page »