There's a reason they muted out all that polite clapping… some of it is just WEIRD.
A new GrumpOut video submitted by Raguio
It's a battle between amiibo and Disney Infinity figures!
I'm putting my money on the one with wings on his helmet!
From the ashes of our previous server, the spirit of Captain Falcon rises once again!
Also I think this is our first ever DOTA2 related post?
By swordzzzzz, submitted by Ted
Do you have a little Falcon in you?
By juiceboxheero
Take the following scene from The Legend of Zelda: Skyward Sword, swap out Groose, ???, profit!
I love it when a meme comes together!

Mann Co. overnight delivery!
By SUPERMARIOGALAXY13, submitted by Caelun_Niveus

The Legend of Scout: Skyward Heavy
By TheBryceanater

The Legend of Ace Attorney: Skyward Turnabout
By nextgenerationlibert

The Legend of Falcon – Skyward Punch
By JimHeadshot

The Legend of Morshu: Mid-Air Shopkeeper
By BlinkingBulbStudios

The Legend of Coward: Skyward Beware
By waxination

I'm surprised Link even saw this guy coming…
By waxination

The Legend of Zelda: Skyward Dinner
By Spinellization

And one good punch deserves another!
By OV3RTUR3
Merry Christmas to brawl, and to brawl a good night!
By mrshmuga9, submitted by Matt G-raffe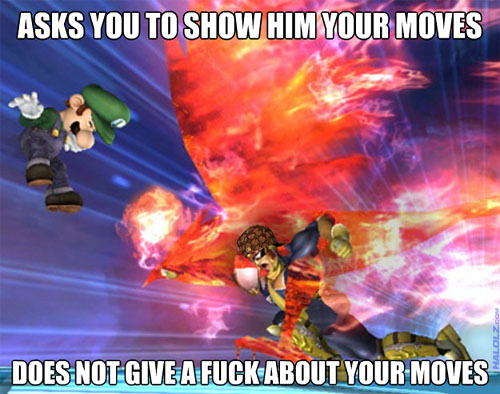 Oh hey there Luigi, would you be so kind as to show me your mov-FAAALCON PAAAAAAAWNCHHHH!!
Falcon ZING!
By NoPUNintendo, submitted by Alpar