Think a video about a Portal version of SMB is crazy? It's an actual game!
By Stabyourself.net, submitted by FrEEz
Oh and if that's not enough, here's a typical MariO pro shot.
When your dreams look like this, there's a good chance you've been playing too many old video games!
By DarkTwist
There's a reason they gave the guy so many extra lives… the odds were always stacked against him!
By TheBourgyman, submitted by Masterluigi452
Who knew video game animals could be cooked in so many ways? I sure didn't!
An informative set of art prints by The Jude! (submitted by several people)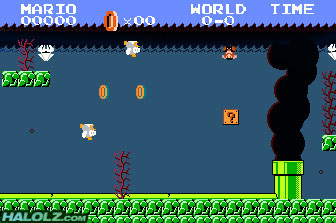 Looks like the Mushroom Kingdom's eco-system isn't fairing much better than our own.
By zero-lives
Overpowered much? Still, I'm really looking forward to playing Ninja Gaiden's Ryu in Exploding Rabbit's Super Mario Bros. Crossover! I mean seriously… ninjas make everything better!
Man, I'd totally be rockin' that Game Genie suit if I had the chance!
By Jeff Rubin and (occasional Halolz artist) H. Caldwell Tanner!