Pokemon time, c'mon catch your friends! We'll go to very distant lands!
By thelimeofdoom
The dangers of addiction are deep and troubled, don't make it doubled! Get to your nearest Pokéholics Anonymous group today.
By Underbelly, with a special guest appearance!
When Muk uses acid on Pikachu, things get a little crazy.
By high5toons
Music soothes the savage Pokemon.
By redminus, submitted by Dr. Furry
Keep your eyes peeled for these two bungling criminals with giant "R's" printed on their chests. Sometimes seen with a wisecracking cat with strange body proportions. Distinguishing features include CRAZY COLORED HAIR.
Found by Apharque
Pikachu's coming… AND HELL'S COMING WITH HIM.
By X-Play. submitted by several people
The life of a ten year old is a lot harder than I remember…
More info at Shogun Gamer, submitted by several people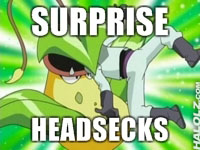 I need an adult! I NEED AN ADULT!!
By Jerrel C.