Absolutely nothing to do with video games, but I thought this was pretty funny. How has this problem never been addressed until now? I mean your hideout is filled with bats and expensive crime fighting technology… this is going to be an issue!
By Marco D'Alfonso [via Rampaged Reality]
You call that a massive collection of custom Mega Man sprites? Well where the hell is Professor Layto…oh there he is. Yeah well where the hell is Vincent Valentin…oh there he is. Well where the hell is, you know what… they're all there.
By captainslam (available as a print here!)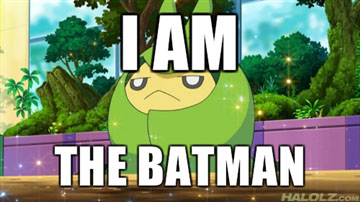 Who's that Pokemon? *checks Pokedex*
Swadloon: The Dark Knight Pokemon. Swadloon brings swift justice to the criminal element in the Unova region and has an extremely gravely voice (at least for a grass type).
Now if only I could think of some sort of Pokemon equivalent for Commissioner Gordon!
By Joshua L.
Oh Batman… you're never going to get anywhere in Arkham Asylum if you keep dancing laps around the locker room! Still I kinda love getting this song stuck in my head for some reason.
By Hamiltonizer, submitted by several people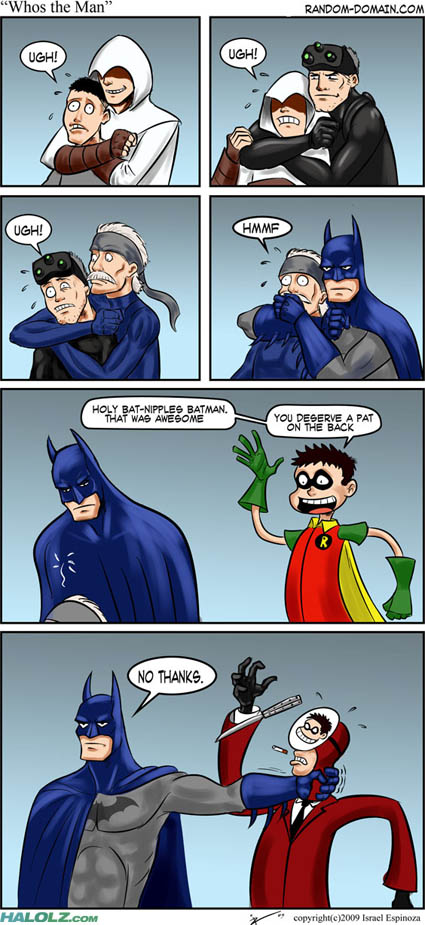 The moral of the story? Nobody out stealths the goddamn Batman.
By Israel Espinoza
What happens when Marcus Fenix, Master Chief, Batman, and Solid Snake attend a party together? Wackiness!
From The Nightmare Shark Podcast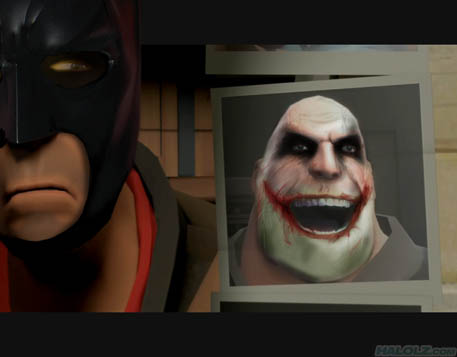 Okay that's it… no more clownin' around! What is this, Joker Tuesday or something? That wouldn't even make sense!
Anyway this one has been floating around the internets… sent in by Pseudo!