And that's how all animals vanished from the Earth, only to be replaced with Pokemon.
By Andy Kluthe [via Dorkly]

| | |
| --- | --- |
| | Posted by Shawn Handyside on July 4, 2012 · 4:59 AM |
Categories:
Artistic, Bad Ideas, Nintendo, Pokémon, Sequential Art, Spiritual Enlightenment, Under the Sea

·




Share





Oh good, I was hoping todays comments would be full of fish puns.
By Cedrick Bearss, submitted by Paul Truitt

| | |
| --- | --- |
| | Posted by Shawn Handyside on May 31, 2012 · 12:18 AM |
Categories:
NES, Nintendo, Retro, Super Mario Bros, Under Construction, Under the Sea, Video Clips

· Leave a comment () 72 Comments




Share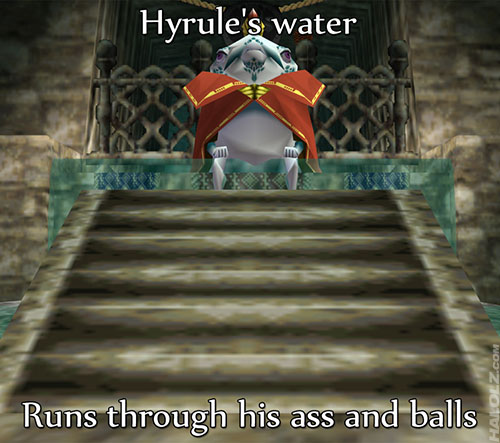 I thought the drinking water around here seemed fishy!
By Hulktor

| | |
| --- | --- |
| | Posted by Shawn Handyside on April 5, 2012 · 1:11 AM |
Categories:
Balls of Steel, Bootylicious, Disturbing, N64, Nintendo, The Legend of Zelda, Under the Sea

· Leave a comment () 167 Comments




Share





It was hard not to feel bad for these guys… I mean why are they even Pokemon battling when all they have are the karps they fished up that morning?
Artist unknown

| | |
| --- | --- |
| | Posted by Shawn Handyside on January 23, 2012 · 11:13 AM |
Categories:
Anime, Artistic, Awkward Moments, Depressing, Nintendo, Pokémon, Sequential Art, Under the Sea

· Leave a comment () 96 Comments




Share





Parody lyrics… go!
By Columnman

| | |
| --- | --- |
| | Posted by Shawn Handyside on December 6, 2011 · 10:01 AM |
Categories:
Cover Art, Musical, Nintendo, Off Duty, Pokémon, Special Attacks, Strike A Pose, Under the Sea

· Leave a comment () 55 Comments




Share





Having the power to shout dragons to death seems awesome at first… but in actuality it has many unforeseen drawbacks!
By Gonzossm, submitted by Gungag

| | |
| --- | --- |
| | Posted by Shawn Handyside on December 2, 2011 · 1:18 PM |
Categories:
Adult Situations, Aerial Maneuvers, Artistic, Awkward Moments, Bad Ideas, Balls of Steel, Bethesda, Chillaxin', Explosives, Extreme CloseUp, Failure, Here There Be Dragons, Irony, Massive Damage, Overkill, Sneak Attack, Special Attacks, The Elder Scrolls, The Great Outdoors, Under the Sea, Video Clips, Weak Points, Weird

· Leave a comment () 73 Comments




Share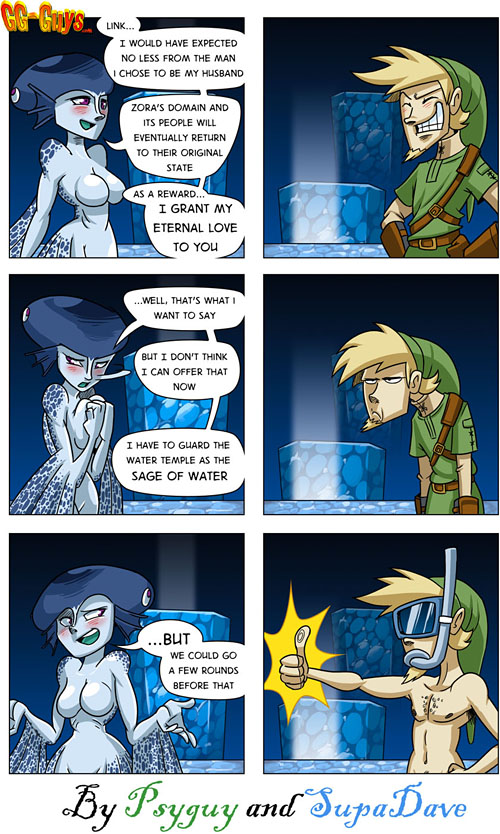 It's a good thing Link brought protection! And of course by that I mean he brought his mystic snorkel to avoid drowning.
Another GG-Guys strip by Psyguy and Supadave!

| | |
| --- | --- |
| | Posted by Shawn Handyside on November 23, 2011 · 7:02 AM |
Categories:
Adult Situations, Artistic, Nintendo, Sequential Art, Strike A Pose, The Legend of Zelda, True Love, Under the Sea

· Leave a comment () 143 Comments




Share





Sorry bro, but I already go slow enough underwater without having to wait for you to get the occasional air bubble!
By Veronica "Taeshi" Vera [Not Enough Rings], submitted by Alex D.

| | |
| --- | --- |
| | Posted by Shawn Handyside on October 28, 2011 · 8:07 PM |
Categories:
Artistic, Best Friends 4-Eva, Sega, Sonic the Hedgehog, Teamwork, Under the Sea, Weak Points

· Leave a comment () 64 Comments




Share




« Previous Page — Next Page »