Well it looks like Tim Burton's work… but where's Johnny Depp? Maybe he'll be Ash?
By Vaughn Pinpin
April 14, 2011 by Shawn Handyside
Filed under Animated, Anime, Cray-Z Crossovers, Donkey Kong, Earthbound, F-Zero, Fire Emblem, Foreign Object, Game & Watch, Ice Climber, Kid Icarus, Kirby, Konami, Metal Gear Solid, Metroid, Nintendo, Pikmin, Pokémon, Power-Ups, Sega, Sonic the Hedgehog, StarFox, Strike A Pose, Super Mario Bros, Super Smash Bros, Swordplay, Teamwork, The Legend of Zelda, Too Much Free Time, TV Shows, Video Clips, WarioWare, Yoshi's Island
Oh you kids, I know how you love your animes! That's why when Uzumakiclan43 sent in these two Smash Bros style Soul Eater openings I figured, I better post these to meet my new Halolz anime themed quota of the week!
Videos by zanpaku and SmashKun respectively.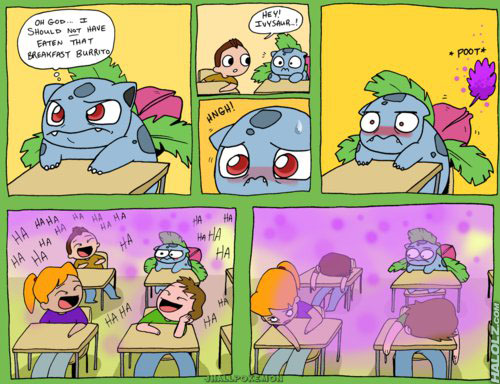 They say he who smelt it, dealt it… but with Pokemon he who doesn't suffer a status change supplied it! Unfortunately that saying isn't very catchy.
By JHALLpokemon, submitted by Jordan R.