Orcs and Creepers have more in common than I realized… green skin, explosive tempers… and a face only a mother could love!
By Warriorccc0, submitted by Darth_Destro

| | |
| --- | --- |
| | Posted by Shawn Handyside on August 3, 2011 · 10:55 AM |
Categories:
Apple, Blizzard, Cover Art, Cray-Z Crossovers, Disguises, Minecraft, PC, World of Warcraft

·




Share





Makes you wonder how many students in this class tried to call in sick to play Portal 2 on launch day! Either way you have to hand it to the professor for calling them on it!
Found by MuffinKirby

| | |
| --- | --- |
| | Posted by Shawn Handyside on April 21, 2011 · 1:09 PM |
Categories:
Apple, Incoming Transmission, Off Duty, Portal, Valve Software

· Leave a comment () 97 Comments




Share





I remember the days when a bomb icon terrified me when using a Mac… now things are a little more colorful, but not much different.
By Ap0a

| | |
| --- | --- |
| | Posted by Shawn Handyside on January 25, 2011 · 12:19 PM |
Categories:
Animated, Apple, Disguises, It's A Trap!, Minecraft, Paranoia, PC

· Leave a comment () 103 Comments




Share





The more you think about the world of Angry Birds, the less sense it makes!
From Dorkly

| | |
| --- | --- |
| | Posted by Shawn Handyside on December 20, 2010 · 2:26 PM |
Categories:
Aerial Maneuvers, Apple, Bad Ideas, Smashy Smashy, Uncategorized, Video Clips

· Leave a comment () 46 Comments




Share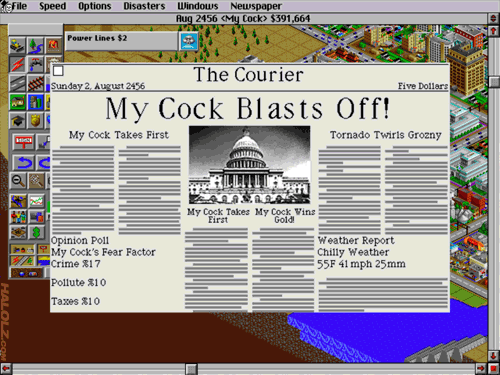 Haha whut? That's crazy! Five dollars for a newspaper?!
Submitted by Nick Soapdish

| | |
| --- | --- |
| | Posted by Shawn Handyside on September 28, 2010 · 11:53 AM |
Categories:
Apple, Cock Joke, Incoming Transmission, Maxis, PC, Retro, Serious Business, SimCity/The Sims, Weird

· Leave a comment () 57 Comments




Share





I had no idea Valve was so ahead of their time! I should have picked these games up the first time around!
By Gamervision

| | |
| --- | --- |
| | Posted by Shawn Handyside on September 3, 2010 · 9:08 AM |
Categories:
Accessories, Apple, Awkward Moments, G-g-g-ghost!, Left 4 Dead, NES, PC, Portal, Retro, Serious Business, TV Shows, Valve Software, Video Clips, Zombies

· Leave a comment () 62 Comments




Share





I've always felt the Terran's early warning system leaves something to be desired.
Also something comes out today… I can't remember what. Definitely something.
Oh right STARCRAFT II! I've only been waiting 11 years for that!

| | |
| --- | --- |
| | Posted by Shawn Handyside on July 27, 2010 · 12:51 PM |
Categories:
Apple, Blizzard, Explosives, Heavy Weapons, Motivational, PC, Starcraft

· Leave a comment () 130 Comments




Share





Team Fortress 2… on Apple computers? Well now I've seen everything!
I guess it's okay though… you only need one mouse button to be a W+M1 Pyro!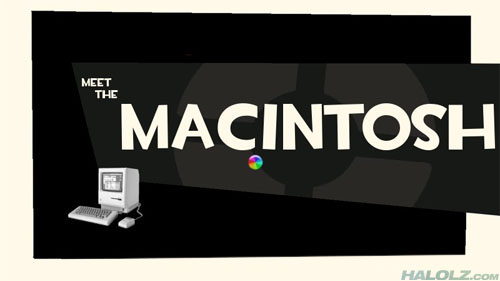 There wasn't actually a "Meet the Mac" video… but if there was it would have been great!
By edelseriman
The official announcement video from The Mac Update!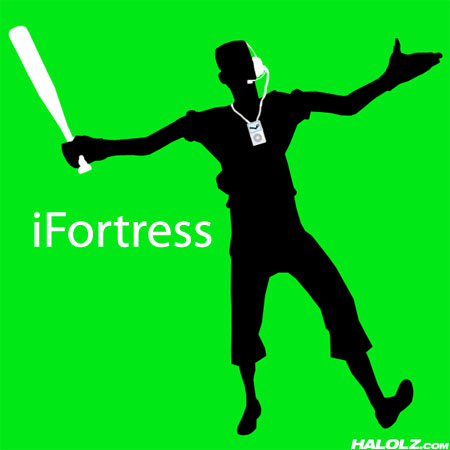 And you thought the Scout's headset was for team chat? Nah it's just helps him stay entertained while he bonks heads in.
By Faremann
Oh yeah, did you notice TF2 Mac players get an exclusive in-game item? If you're an Apple user you may want to hop in and pick them up during their free TF2 weekend!
And hey if you need a place to play this weekend, don't forget we have our own server here on Halolz! And we're totally Mac friendly! (In that we will shoot at you the same amount, if not more!)

| | |
| --- | --- |
| | Posted by Shawn Handyside on June 11, 2010 · 5:38 PM |
Categories:
Apple, PC, Rockin' Out, Secret Items, Stealth Espionage, Team Fortress 2, Valve Software, Video Clips

· Leave a comment () 94 Comments




Share




« Previous Page