When your dreams look like this, there's a good chance you've been playing too many old video games!
By DarkTwist

| | |
| --- | --- |
| | Posted by Shawn Handyside on August 17, 2011 · 9:09 AM |
Categories:
Arcade, Bionic Commando, Bomberman, Capcom, Chill Out, Contra, Cray-Z Crossovers, Mega Man, Metroid, NES, Nintendo, Pac-Man, Power-Ups, Retro, SNES, Sonic the Hedgehog, Special Attacks, Stop... Hammer Time, Street Fighter, Super Mario Bros, The Legend of Zelda, Under the Sea, Video Clips

·




Share





Now you're thinking with pixels!
By Ion Games, submitted by Trunks

| | |
| --- | --- |
| | Posted by Shawn Handyside on July 18, 2011 · 2:51 PM |
Categories:
Animated, Arcade, Cray-Z Crossovers, Namco, NES, Nintendo, Pac-Man, PC, Pokémon, Pong, Portal, Retro, Super Mario Bros, Taito, Tetris, Too Much Free Time, Uncategorized, Valve Software, Video Clips

· Leave a comment () 62 Comments




Share





Some people like a challenge. Not me though, I like my games nice and easy!
By CollegeHumor

| | |
| --- | --- |
| | Posted by Shawn Handyside on February 13, 2011 · 5:01 PM |
Categories:
Aliens, Arcade, Atari, Bad Ideas, Contra, Genesis, Heavy Weapons, Kickin' It, Konami, Mario Kart, Mii's, Mortal Kombat, Moving Violations, Namco, NES, Nintendo, Overkill, Pac-Man, Pong, Punch Out, Racing, Rare, Retro, Secret Items, Sega, Smashy Smashy, SNES, Sonic the Hedgehog, Space Invaders, Taito, Teamwork, Tetris, The Legend of Zelda, Uncategorized, Video Clips, Wii, Williams/Midway

· Leave a comment () 119 Comments




Share





Should it worry me that this song sums up my entire life in four minutes? Nah…
By PopeFriction, submitted by KHPandaZ and smashpro1

| | |
| --- | --- |
| | Posted by Shawn Handyside on December 15, 2010 · 10:21 PM |
Categories:
Accessories, Activision, Arcade, Atari, BioWare, Blizzard, Bomberman, Bungie, Call of Duty, Capcom, Castlevania, Christmas, Donkey Kong, Doom, Dreamcast, Duke Nukem, Electronic Arts, Fallout, Final Fantasy, Gameboy, Genesis, God of War, Grand Theft Auto, Guitar Hero/Rock Band, Half-Life, Halo, ID Software, Kingdom Hearts, Kirby, Konami, LucasArts, Mario Kart, Mass Effect, Maxis, Mega Man, Metal Gear Solid, Metroid, Microsoft, Monkey Island, Mortal Kombat, Musical, N64, Neo Geo, NES, Nintendo, Nintendo DS, Oregon Trail, Pac-Man, PC, Playstation, Pokémon, Political, Pong, Prince of Persia, Rare, Red Ring of Death, Resident Evil, Retro, Sega, SimCity/The Sims, SNES, Sonic the Hedgehog, Sony, Space Invaders, Square Enix, Star Wars, Starcraft, StarFox, Super Mario Bros, Super Smash Bros, Systems, Tetris, The Legend of Zelda, Things Are Heating Up, Tomb Raider, TV Shows, Ubisoft, Uncategorized, Video Clips, Wii, Williams/Midway, World of Warcraft, Xbox 360

· Leave a comment () 73 Comments




Share





And finally our grand prize for most creative pumpkin goes to Nick Everson for his Halo: Reach Haunted Helmet! Not only is it a great design, but it looks awesome when it's on fire! I guess that particular haunted helmet belongs to someone at Bungie?
Our runners-up prizes for most creative go to Nick and Molly for their uniquely lit Pacman and Ghosts, and Daniel Potvin for The Original Ghost Pump-kemon that features everyone's three favorite original ghost Pokémon (and a creatively painted Pokeball!) Well done, and congrats again to everyone for making this a fantastic 3rd Halloween carving contest!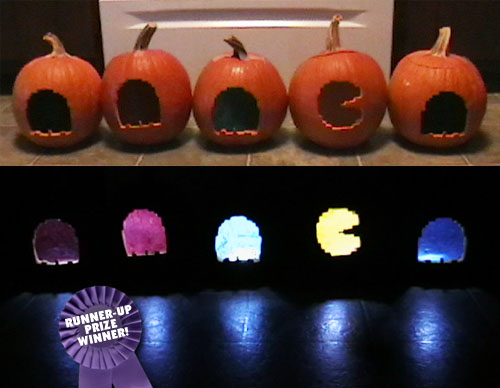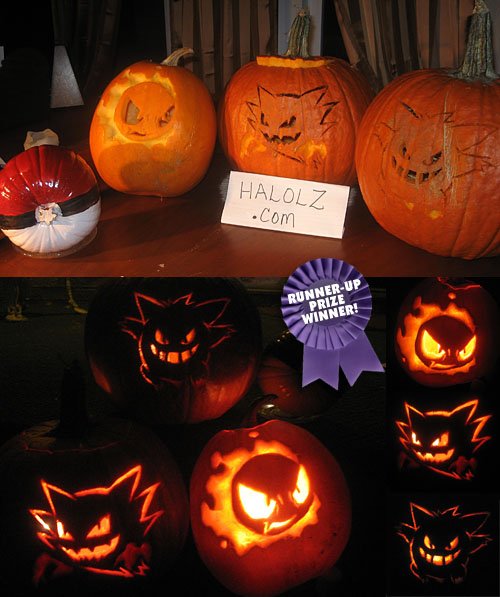 | | |
| --- | --- |
| | Posted by Shawn Handyside on November 1, 2010 · 3:17 AM |
Categories:
Bungie, Contests, G-g-g-ghost!, Halloween, Halo, Holidays, Microsoft, Namco, News, Nintendo, Pac-Man, Pokémon, Retro, Things Are Heating Up

· Leave a comment () 16 Comments




Share





The entries are in! Behold this year's crop of video game themed pumpkins!
#1 – The Original Ghost Pump-kemon by Daniel Potvin
#2 – This is Halloween! by Tom Palmen
#3 – Homeworld by ceemdee
#4 – Sonic/Knuckles Pumpkin by LeeFlippinGreene
#5 – The Cake Is A Lie by Cubetony Licciardi
#6 – inb4 "who?" by TCC
#7 – Blue Knight by Kryfus
#8 – Gengar by CornballCoder
#9 – Pumpkin-Trap by Tom Palmen
#10 – Beyond Good & Evil by ceemdee
#11 – In Disguise Zoom by David Roy
#12 – I was told we would be carving pumkin! by ChimpoDelFuego
#13 – Prinny by kitamoo
#14 – King Boo by Sussi
#15 – Syndicate by ceemdee
#16 – Day of the Tentacle by ceemdee
#17 – Slimer by Sussi
#18 – Kirby's Epic Yarn: Pumpkin "Patch" by BBeast
#19 – Spy Carvin My Pumpkin? NOPE by Tabetha Morango
#20 – Red Dead Redemption by ceemdee
#21 – Duskull by Ashley Randall
#22 – Hitman by ceemdee
#23 – GLaDOS Cake Core and Curiosity Core by LadyFiede
#24 – PumpKoffin' (Pumpkin Koffing) by GengarKing
#25 – Creeper by ceemdee
#26 – Mr. Bubbles by Gene Cole
#27 – The Cake is a Lie… The Pumpkin is not. by Aaron "Ace" Hinds
#28 – Reaper and Reapette by Sussi
#29 – Pacman and Ghosts by Nick and Molly
#30 – Halo: Reach Haunted Helmet by Nick Everson
#31 – Fox McCloud by A Random Person
#32 – Old Snake takes out an Enemy Soldier by suicid3clutch
#33 – Max Payne 2 by ceemdee
#34 – Pokéball by ChimpoDelFuego
#35 – Oddworld by ceemdee
#36 – The Isshu starters, all dressed up for Halloween! by Bridgette Rockette
#37 – No King Rules Forever by Artais
#38 – The Orange Spy by ChimpoDelFuego
#39 – DeathSpank by ceemdee
#40 – Castle Crashers Animal Orb Rammy by Nick
#41 – Dungeon Keeper by ceemdee
#42 – Costume Quest by ceemdee
#43 – Guybrush by ceemdee
Man, what a great turn out this year! I tip my hat and monocle to all of you folks who sent in these awesome entries! And don't forget, be sure to keep checking back during the course of today (Halloween day) as we announce this year's winners! Stay tuned!

| | |
| --- | --- |
| | Posted by Shawn Handyside on October 31, 2010 · 12:01 PM |
Categories:
2K Games, Artistic, Backstab, BioShock, Blizzard, Bungie, Castle Crashers, Contests, Cosplay, Creepy/Spooky, Disgaea, Disguises, Earthbound, Eidos, Electronic Arts, G-g-g-ghost!, Gentlemen, Halloween, Halo, Heavy Weapons, Holidays, Kid Icarus, Kingdom Hearts, Kirby, Konami, LucasArts, Maniac Mansion, Metal Gear Solid, Microsoft, Minecraft, Monkey Island, Movies, Namco, News, Nintendo, Pac-Man, Photo Op, Pirates, Pokémon, Portal, Retro, Robots, Rockstar, Sega, Sneak Attack, Sonic the Hedgehog, Stabbey Stabbey, StarFox, Stealth Espionage, Strike A Pose, Super Mario Bros, Swordplay, Team Fortress 2, The Behemoth, Ubisoft, Uncategorized, Valve Software, World of Warcraft

· Leave a comment () 33 Comments




Share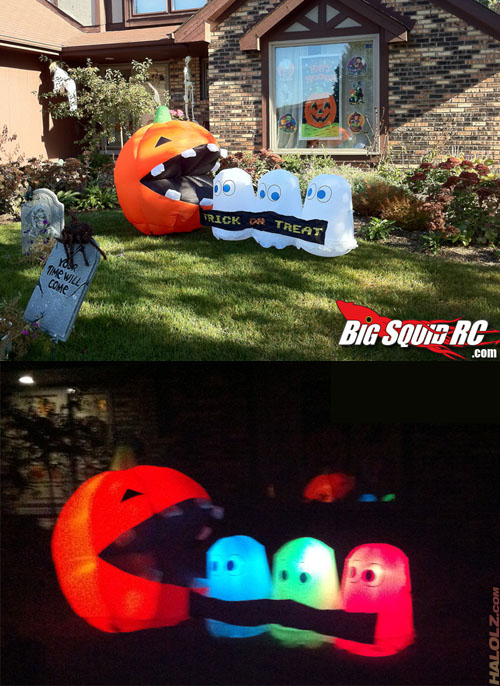 Hey it's the great Pac-Pumpkin! He's on your lawn, nom'min ur ghosts!
From Big Squid RC [via Joystiq]

| | |
| --- | --- |
| | Posted by Shawn Handyside on October 30, 2010 · 9:39 AM |
Categories:
G-g-g-ghost!, Halloween, Holidays, Namco, Pac-Man, Photo Op, Retro

· Leave a comment () 37 Comments




Share





[audio:http://www.halolz.com/wp-content/uploads/audio/halolz-dot-com-digdugfinalmix.mp3]
Official song description: "While Ke$ha's song 'TiK ToK' extols the love one slut has for a night of drinking and parties and clubbing, conversely, 'DiG DuG' extols one nerd's love for classic video games and arcades. The dicotomy is staggering."
A little tune by Insane Ian, a guy I met at InterventionCon!

| | |
| --- | --- |
| | Posted by Shawn Handyside on September 29, 2010 · 9:16 PM |
Categories:
Arcade, Musical, Namco, Pac-Man, Retro, Uncategorized

· Leave a comment () 45 Comments




Share




« Previous Page — Next Page »