If this game's a rockin', don't come a knockin'!
By GoldenMoustacheVideo

| | |
| --- | --- |
| | Posted by Shawn Handyside on March 7, 2013 · 11:44 AM |
Categories:
Adult Situations, Awkward Moments, Capcom, Eidos, Electronic Arts, Foreign Object, Grand Theft Auto, Metal Gear Solid, Nintendo, Pokémon, Portal, Power-Ups, Rockstar, SimCity/The Sims, Street Fighter, Tetris, Tomb Raider, Valve Software, Video Clips

·




Share





Is it getting hot in here, or is it just me?
A collection of video game themed porno box art by Porrskadad
(more after the jump, if you really need more of this!)
Read more

| | |
| --- | --- |
| | Posted by Shawn Handyside on April 16, 2012 · 5:44 PM |
Categories:
2K Games, Adult Situations, Assassin's Creed, BioShock, BioWare, Boobies, Bootylicious, Bungie, Capcom, Castlevania, Cover Art, Devil May Cry, Disturbing, Electronic Arts, Epic Games, Gears of War, God of War, Grand Theft Auto, Halo, Highly Illogical Captain, Konami, Mass Effect, Metal Gear Solid, Metroid, Microsoft, Nintendo, Off Duty, Ratchet & Clank, Rayman Raving Rabbids, Rockstar, Sony, Strike A Pose, Too Much Free Time, Uncategorized, Weird

· Leave a comment () 156 Comments




Share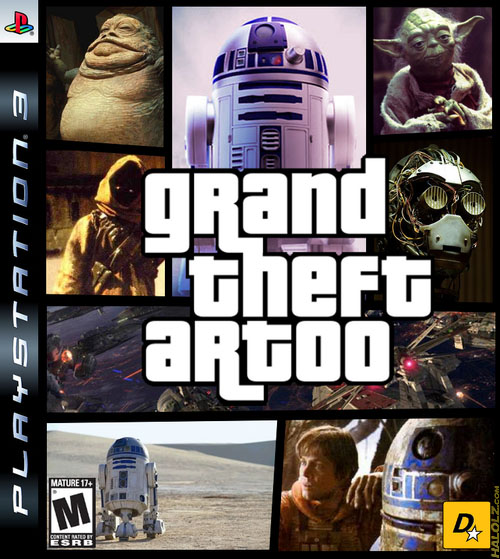 That little droid has been all across the galaxy… it's actually kind of surprising no one's just picked him up and walked off with him.
[via GameFreaks]

| | |
| --- | --- |
| | Posted by Shawn Handyside on May 6, 2011 · 12:22 PM |
Categories:
Cover Art, Grand Theft Auto, Movies, Playstation, Robots, Rockstar, Star Wars

· Leave a comment () 27 Comments




Share





Normally this might be the kind of video that gets old fast, but throw some Yakety Sax in with those modified GTA physics, and I was laughing until it hurt!
By theninjacowboy, submitted by several people

| | |
| --- | --- |
| | Posted by Shawn Handyside on February 22, 2011 · 3:57 PM |
Categories:
Aerial Maneuvers, Explosives, Grand Theft Auto, Lucky Day, Massive Damage, Moving Violations, PC, Playstation, Rockstar, Smashy Smashy, Sneak Attack, Video Clips, Weird, Xbox 360

· Leave a comment () 143 Comments




Share





Should it worry me that this song sums up my entire life in four minutes? Nah…
By PopeFriction, submitted by KHPandaZ and smashpro1

| | |
| --- | --- |
| | Posted by Shawn Handyside on December 15, 2010 · 10:21 PM |
Categories:
Accessories, Activision, Arcade, Atari, BioWare, Blizzard, Bomberman, Bungie, Call of Duty, Capcom, Castlevania, Christmas, Donkey Kong, Doom, Dreamcast, Duke Nukem, Electronic Arts, Fallout, Final Fantasy, Gameboy, Genesis, God of War, Grand Theft Auto, Guitar Hero/Rock Band, Half-Life, Halo, ID Software, Kingdom Hearts, Kirby, Konami, LucasArts, Mario Kart, Mass Effect, Maxis, Mega Man, Metal Gear Solid, Metroid, Microsoft, Monkey Island, Mortal Kombat, Musical, N64, Neo Geo, NES, Nintendo, Nintendo DS, Oregon Trail, Pac-Man, PC, Playstation, Pokémon, Political, Pong, Prince of Persia, Rare, Red Ring of Death, Resident Evil, Retro, Sega, SimCity/The Sims, SNES, Sonic the Hedgehog, Sony, Space Invaders, Square Enix, Star Wars, Starcraft, StarFox, Super Mario Bros, Super Smash Bros, Systems, Tetris, The Legend of Zelda, Things Are Heating Up, Tomb Raider, TV Shows, Ubisoft, Uncategorized, Video Clips, Wii, Williams/Midway, World of Warcraft, Xbox 360

· Leave a comment () 73 Comments




Share






What the… it turns out there are even more of these things out there! Nobody seems to know where they started, but reader Spritz was able to… wait for it…….. DIG SOME MORE UP.
THANK YOU, THANK YOU.

| | |
| --- | --- |
| | Posted by Shawn Handyside on June 30, 2010 · 2:26 AM |
Categories:
Artistic, Atari, Capcom, Grand Theft Auto, Kirby, Mega Man, Namco, Nintendo, Okami, Retro, Rockin' Out, Rockstar, Sony, Super Mario Bros, Team Ninja, The Great Outdoors, Uncategorized

· Leave a comment () 36 Comments




Share





One of the new TV commercials you can watch inside the latest Grand Theft Auto IV expansion… funny because it's so goddamn true.

| | |
| --- | --- |
| | Posted by Shawn Handyside on November 2, 2009 · 2:21 PM |
Categories:
Adult Situations, Animated, Anime, Bad Grammer, Boobies, Bootylicious, Fashion Faux Pas, Foreign Object, Grand Theft Auto, Heavy Weapons, Ninjas, Robots, Rockstar, Swordplay, Video Clips, Weird, Xbox 360

· Leave a comment () 55 Comments




Share





Poor Heavy Weapons Guy… I laughed out loud when he tried to use that keyboard with his giant hands!
By kitty0706, submitted by GiantHobbit

| | |
| --- | --- |
| | Posted by Shawn Handyside on August 24, 2009 · 4:03 AM |
Categories:
Awkward Moments, Explosives, Extreme CloseUp, Failure, Grand Theft Auto, Half-Life, Heavy Weapons, Internets, Lasers, Left 4 Dead, Lucky Day, Massive Damage, Movies, PC, Playstation, Power-Ups, Red Ring of Death, Smashy Smashy, Systems, Team Fortress 2, Teamwork, Things Are Heating Up, Uncategorized, Valve Software, Video Clips, Weird, Xbox 360

· Leave a comment () 49 Comments




Share




« Previous Page — Next Page »