Update: FAQs available right here.
Double Update, vote for the games you want to see played here.
As mentioned before, Monday marks the Love-a-thon. It's the day before Steam picks the next set of games to get Greenlit, and of course Love+ is still trying to get published, and the only way to make that happen is to get people interested!
Here's the list of everything we're giving away (and when).
There's no limits to the number of tickets you can buy or the number of prizes you can win.
So go, subscribe to get notified as soon as we go live, and please help spread the word! Most importantly, get your tickets now.

| | |
| --- | --- |
| | Posted by Fred "Trunks" Wood on January 12, 2013 · 1:00 AM |
Categories:
Contests, Games, News, PC, Podcasts

·




Share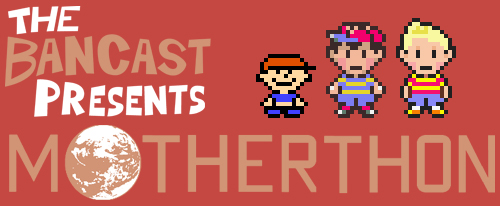 Hey folks, allow me to interrupt your regularly scheduled Halolz to bring you something completely different. Levi and I are doing a marathon this weekend attempting to complete the entire Mother series. Off and on for the next three days (starting immediately), we'll be doing intermittent streams of Mother 1, Mother 2 (Earthbound), and Mother 3 with hardly relevant commentary, for no particular reason.
Come join us live in the chat and cheer or jeer while we do what we can to make our way through these classic Nintendo RPGs. If you missed any part of our stream, segments will be available right here.

| | |
| --- | --- |
| | Posted by Fred "Trunks" Wood on August 24, 2012 · 8:04 PM |
Categories:
Best Friends 4-Eva, Earthbound, NES, News, Nintendo, Podcasts, SNES, Teamwork

· Leave a comment () 24 Comments




Share





Last week I asked for your questions, and you gave 'em to me. This weekend we sat down and got those questions answered. Drop by The Bancast for a very special episode with Shawn Handyside, the creator of Halolz. Who knows, you might even be surprised.
And hey, do be sure to subscribe and rate The Bancast on iTunes. It really helps out.

| | |
| --- | --- |
| | Posted by Fred "Trunks" Wood on March 28, 2012 · 6:27 PM |
Categories:
News, Podcasts

· Leave a comment () 46 Comments




Share





Shawn Handyside is quite possibly the most illusive creature to have ever roamed the Earth. For years he has dodged your queries pertaining to all aspects of internet livelihood, but I, Fred "Trunks" Wood, have managed to tie him down for an hour so of intense, honest* questioning. Shawn will be on The Bancast on Thursday night for an hour or so, forced to answer select questions from you, the denizens of Halolz and by proxy, The Church of Falcon.
Send in your questions to the Almighty Ask Box and have them answered on tomorrow night's show.
*Honest is a relative term. Any question Shawn answers to falsely will be considered "pretty honest, for Shawn."

| | |
| --- | --- |
| | Posted by Fred "Trunks" Wood on March 21, 2012 · 6:41 PM |
Categories:
News, Podcasts

· Leave a comment () 48 Comments




Share





[audio:http://www.halolz.com/wp-content/uploads/fancast/halolz-fancast-ep001.mp3]
Behold! It is episode one of the Halolz Fancast! What is the Halolz Fancast? A roundtable of your favorite Halolz community regulars discussing video games and interviewing special guests!
And who is the special guest in this premiere episode? Why none other than myself, Shawn Handyside! Listen as they ask me probing questions about my deep seated emotional trauma from when I drank kerosene as a child! Marvel as I pretend to pay attention to the conversation while I play FarmVille in the background!
This episode features your hosts:
Pheonix, Twohats, Haru, Daifkuku, and Badonk
With special guest: Shawn Handyside!
Note: Badonk would like me to point out that this was a test run style first episode and they plan to improve it greatly starting with episode two! Also, the news in this episode might be a little behind because of delays in editing and my hosting the show on the site.
Enjoy!

| | |
| --- | --- |
| | Posted by Shawn Handyside on October 7, 2010 · 1:17 AM |
Categories:
Podcasts

· Leave a comment () 84 Comments




Share




« Previous Page