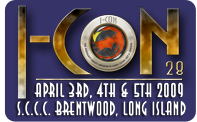 Yep, it's convention time again! I'll be heading out to two conventions the next two weekends! This weekend I will be at I-CON in Long Island, NY… and then the following weekend I will be at Sakura-Con in Seattle! East coast and then west coast! Really you have no excuse for not going to at least one!
As usual I will have some awesome stuff from Ninja-Bot with me, and also at Sakura-Con I will be doing an updated version of my multimedia Halolz panel (which has been going over really well at the cons).
So yeah, if you can make it out to either con be sure to stop by my booth and say hi!

| | |
| --- | --- |
| | Posted by Shawn Handyside on March 31, 2009 · 2:27 PM |