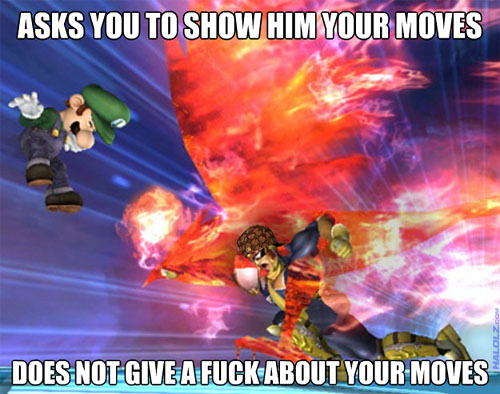 Oh hey there Luigi, would you be so kind as to show me your mov-FAAALCON PAAAAAAAWNCHHHH!!

| | |
| --- | --- |
| | Posted by Shawn Handyside on December 4, 2011 · 10:16 PM |
Categories:
F-Zero, FALCON PAAAANCH, Fists of Fury, Nintendo, Scumbag, Smashy Smashy, Special Attacks, Super Mario Bros, Super Smash Bros, Things Are Heating Up, Wii

·




Share





You son of a… why didn't you mention that before all that "Gotta Catch 'Em All" talk?! I didn't want to waste my entire childhood doing your Pokemon research!

| | |
| --- | --- |
| | Posted by Shawn Handyside on September 20, 2011 · 5:59 PM |
Categories:
Advice Meme, Nintendo, Pokémon, Scumbag

· Leave a comment () 61 Comments




Share





Nothing says fair like starting out a new game with your trusty ringer…I mean, best friend!
What's that Joey, you choose your level 5 Ratatta? PIKACHU USE VOLT TACKLE, THEN FOLLOW UP WITH A HYPER BEAM
By devil_in_drag

| | |
| --- | --- |
| | Posted by Shawn Handyside on August 2, 2011 · 1:01 PM |
Categories:
Anime, Irony, Nintendo, Pokémon, Scumbag, TV Shows

· Leave a comment () 139 Comments




Share




« Previous Page