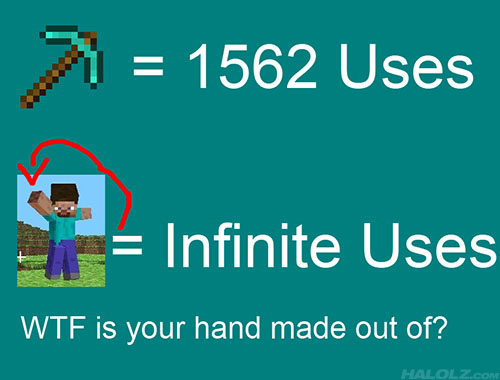 Sticks and stones may break my bones, but my knuckles are invincible and can eventually punch through almost anything.
By cravingthrones

| | |
| --- | --- |
| | Posted by Shawn Handyside on April 9, 2012 · 2:10 AM |
Categories:
Fists of Fury, Highly Illogical Captain, Minecraft, PC

·




Share






Even more brutal than the Rumble in the Jungle in 1974, Ali vs Foreman, was the Rumble in the Streets in 2012 featuring Ali vs Hoshi.
By ComboInParis

| | |
| --- | --- |
| | Posted by Fred "Trunks" Wood on March 6, 2012 · 1:34 PM |
Categories:
Arcade, Artistic, Capcom, Cray-Z Crossovers, Fists of Fury, Genesis, Massive Damage, Photo Op, SNES, Street Fighter

· Leave a comment () No Comments




Share





Yes, Spike's Video Game Awards are pretty much the worst thing ever… but if they have one redeeming quality it's that they result in these cool "Best Character of the Year" nominee videos getting made!
Also goddamn I hate working with YouTube sometimes, sorry for the " target="_blank">embedding problems.

| | |
| --- | --- |
| | Posted by Shawn Handyside on December 17, 2011 · 3:00 AM |
Categories:
Epic Games, Explosives, Failure, Fists of Fury, Heavy Weapons, Incoming Transmission, Massive Damage, Off Duty, PC, Playstation, Rage Enducing, Smashy Smashy, Sony, Superheroes/Supervillains, TV Shows, Valve Software, Video Clips, Xbox 360

· Leave a comment () 53 Comments




Share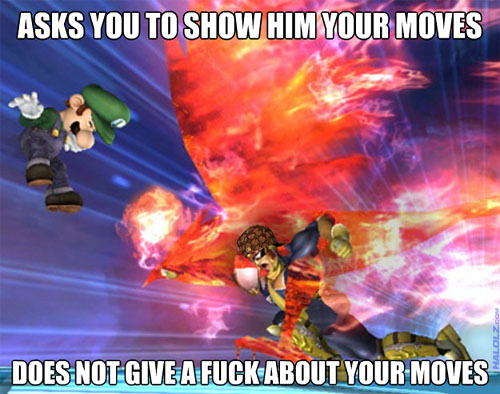 Oh hey there Luigi, would you be so kind as to show me your mov-FAAALCON PAAAAAAAWNCHHHH!!

| | |
| --- | --- |
| | Posted by Shawn Handyside on December 4, 2011 · 10:16 PM |
Categories:
F-Zero, FALCON PAAAANCH, Fists of Fury, Nintendo, Scumbag, Smashy Smashy, Special Attacks, Super Mario Bros, Super Smash Bros, Things Are Heating Up, Wii

· Leave a comment () 72 Comments




Share





I prefer my cooking tips from target="_blank">a giant rapping chicken thank you very much! Besides no one will ever cook toast like the Engie!
By kitty0706, submitted by SSFF6B

| | |
| --- | --- |
| | Posted by Shawn Handyside on November 8, 2011 · 1:02 PM |
Categories:
Bad Ideas, Fists of Fury, Now We're Cookin', Off Duty, PC, Playstation, Team Fortress 2, Things Are Heating Up, Tips & Tricks, Valve Software, Video Clips, Weird, Xbox 360

· Leave a comment () 58 Comments




Share






Behold, the first opponent to ever withstand and defeat a falcon punch! Has the Captain finally met his match?
By Bryan Lacie [KakuJomics], submitted by Vatonnage

| | |
| --- | --- |
| | Posted by Shawn Handyside on September 30, 2011 · 12:03 PM |
Categories:
Artistic, Bulking Up, F-Zero, Failure, FALCON PAAAANCH, Fists of Fury, Kirby, Lucky Day, Massive Damage, Nintendo, Pokémon, Sequential Art, Smashy Smashy, Sneak Attack, Special Attacks, Strike A Pose, Super Smash Bros

· Leave a comment () 159 Comments




Share





Captain Falcon will never appear in Ultimate Marvel vs Capcom 3, but at least having Iron Fist in there lets us imagine what it would be like throwing a few falcon punches…
By Angelglory, submitted by Omnomynous

| | |
| --- | --- |
| | Posted by Shawn Handyside on September 18, 2011 · 9:50 PM |
Categories:
Capcom, Cray-Z Crossovers, FALCON PAAAANCH, Fists of Fury, Nintendo, Playstation, Special Attacks, Super Smash Bros, Things Are Heating Up, Video Clips, Vs Series, Xbox 360

· Leave a comment () 46 Comments




Share





Using karate on zombies is definitely easier in low gravity! WHA-CHAAAAAA
By genomexp, submitted by several people

| | |
| --- | --- |
| | Posted by Shawn Handyside on September 14, 2011 · 2:15 PM |
Categories:
Anime, Fists of Fury, Foreign Object, Kickin' It, Kung-Fu, Obnoxious, PC, Playstation, Smashy Smashy, Square Enix, Things Are Heating Up, Uncategorized, Video Clips, Weird, Xbox 360, Zombies

· Leave a comment () 69 Comments




Share




« Previous Page — Next Page »