So I've been doing a pretty poor job talking about the shows we've been going to this year… this summer in particular was just packed… (Four shows in July? Whhhhyyy??) But I feel like we really should announce these things so lets see if I can get back into the trend…
Intervention (Sept 10-12 • Washington D.C.)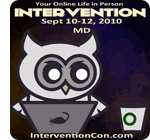 Intervention is a brand new show taking place in the D.C. area in two weeks that is being billed as an "internet convention," which is to say a con for all the stuff from your online life. I'll be honest, I don't normally sign up for brand new shows, but I love the concept. It's a nice departure from the usual anime/gaming billed shows… I feel like this is the kind of show that can understand where a video game humor/meme site is coming from!



And of course they've got plenty of cool guests from webcomics and video games, so I feel like this is a show you should really check out! Also my pal Caldy is going to be there (you know, the artist behind our Falcon Lunch shirt!) so that's a pretty awesome opportunity in itself!
PAX (Sept 3-5 • Seattle, WA)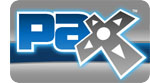 You might have briefly caught Penny Arcade Expo on the schedule last week, but in fact I will not be attending/doing a meet-up. PAX is a show I'd desperately love to do in some capacity, but it's never going to happen because of the way the Penny Arcade Corporation does business.



However if you are planning on attending PAX this year and are a big fan of Halolz, we will seriously send you a free t-shirt of  from Ninja-Bot if you wear it during the show! If this is something you're interested in, send an email to store[at]ninja-bot.com and we'll get a shirt out to you in time for the con!

| | |
| --- | --- |
| | Posted by Shawn Handyside on August 27, 2010 · 1:07 PM |