New Instrument for Rock Band 3 Leads to New Guitar
Hero Instrument Announcement
By Halolz Senior E3 2010 Correspondent Mike Moore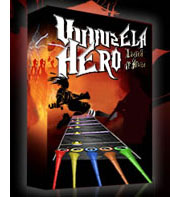 During E3 Harmonix announced a number of improvements that are coming to their latest edition to the Rock Band series, Rock Band 3. Perhaps chief among them was the inclusion of a new keyboard controller, and a pro difficulty mode that more closely simulates actually playing the actual instrument.
Upon seeing the positive reception these additions have gotten from the press, Activision has decided to incorporate a new instrument into both the Guitar Hero and Band Hero series of games, the vuvuzela.
Activision hopes to take advantage of the instruments new found popularity at the World Cup in South Africa saying, "Everyone has been talking about this vuvuzela horn instrument lately. So we thought since it's obviously so popular that it would make a great addition to our Hero franchises."
From what we were able to discern from the Guitar/Band Hero designers, the vuvuzela will work much like the singing does. But instead of matching the pitch of the singer vocals, the player will need to match a varying level of loudness.
"We are also looking to possibly have harmonizing of the vuvuzelas, if players have multiple vuvuzelas hooked into the system at the same time," the designers also noted.
[Image courtesy of Olybop]

| | |
| --- | --- |
| | Posted by Michael Moore on June 24, 2010 · 4:44 PM |