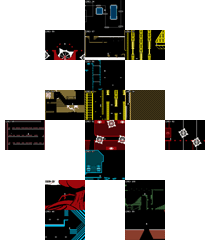 Hmm, haven't really done a general blog post in a while… but I've got a few things to mention so lets just cram them all in at once, shall we?
First my apologies for the updates being a little sparatic the last couple of days, we all came down with the flu last Thursday and it has not been pleasant (keep in mind I have a two year old daughter). Hmm, I wonder if I'm being punished for something? Nahhhhhh…
Next I wanted to mention that I will officially be at MAGFest this Jan 1st-4th in Virginia. MAGFest is unlike a lot of the shows I normally do, in that it's primary focus is video game music… which should be pretty awesome! I've wanted to make it out to this show for a few years now but it always lands on my birthday so it's been difficult to work it into my schedule… but this year I'm just going to suck it up, ditch my loving family, and spend my birthday at a video game festival! I'm such a good person! >__>
Speaking of the vidjeo games… I wanted to throw out a quick plug for a game I started playing recently called LOVE, which also happens to be made by my friend (and semi-regular Halolz submitter) Trunks. It's a fairly simple old skool platformer with a neat respawning twist and a kick-ass soundtrack, and most importantly… it's absolutely free! Pick it up if you have a sec!
And speaking of my friends, I wanted to mention that our friends at Yu-Gi-Oh Abridged are up for one of them there fancy internet awards (y'know like real awards except made out of electrons and magic!) If you're a fan of the series why not give them a vote?
Hmm, what else. Oh the Facebook page thing seems to be going really well, be sure to keep sharing your favorite submissions on there!
Oh and you may have heard that Valve is holding a propaganda contest for the TF2 Soldier/Demo War that's currently running… so uh, don't be surprised if you see a lot of these types of poster entries appearing on the site this week!
I think that's about it! See ya' Monday!

| | |
| --- | --- |
| | Posted by Shawn Handyside on December 14, 2009 · 12:26 AM |