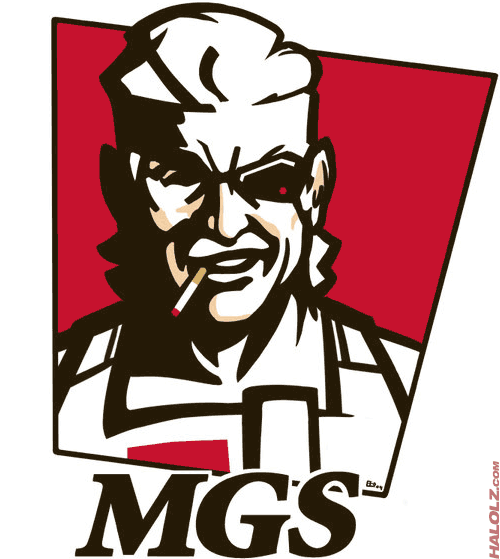 War has changed, but his secret recipe has not!
By E-Mann [via Kotaku]
Should it worry me that this song sums up my entire life in four minutes? Nah…
By PopeFriction, submitted by KHPandaZ and smashpro1
Luigi decided to invite everyone over to his place for Thanksgiving! What a nice guy!
Hmm speaking of which, where is our illustrious host?
Artist unknown, submitted by Victory63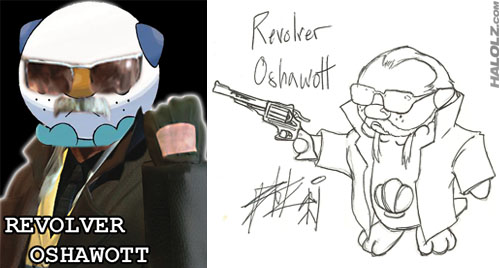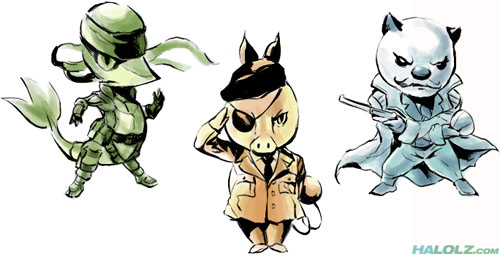 After they announced those awful English starter names for Pokemon Black & White, I got an inbox full of Revolver Ocelot parodies!
By Leko and arkeis-pokemon. Submitted by several people.
Our grand prize for most humorous pumpkin goes to ChimpoDelFuego for "The Orange Spy" (possibly one of the simplest winning designs we've ever seen!) and I was told we would be carving pumpkin!, a pumpkinized version of Gentleman Heavy (complete with top hat and monocle!)
Our humorous runners-up include GengarKing's PumpKoffin' (a Koffing with an awesome face is good, but adding a "poison gas attack" makes it great!), and suicid3clutch's Old Snake takes out an Enemy Soldier for it's stealthy kill pose! Congrats guys!
The entries are in! Behold this year's crop of video game themed pumpkins!
#1 – The Original Ghost Pump-kemon by Daniel Potvin
#2 – This is Halloween! by Tom Palmen
#3 – Homeworld by ceemdee
#4 – Sonic/Knuckles Pumpkin by LeeFlippinGreene
#5 – The Cake Is A Lie by Cubetony Licciardi
#6 – inb4 "who?" by TCC
#7 – Blue Knight by Kryfus
#8 – Gengar by CornballCoder
#9 – Pumpkin-Trap by Tom Palmen
#10 – Beyond Good & Evil by ceemdee
#11 – In Disguise Zoom by David Roy
#12 – I was told we would be carving pumkin! by ChimpoDelFuego
#13 – Prinny by kitamoo
#14 – King Boo by Sussi
#15 – Syndicate by ceemdee
#16 – Day of the Tentacle by ceemdee
#17 – Slimer by Sussi
#18 – Kirby's Epic Yarn: Pumpkin "Patch" by BBeast
#19 – Spy Carvin My Pumpkin? NOPE by Tabetha Morango
#20 – Red Dead Redemption by ceemdee
#21 – Duskull by Ashley Randall
#22 – Hitman by ceemdee
#23 – GLaDOS Cake Core and Curiosity Core by LadyFiede
#24 – PumpKoffin' (Pumpkin Koffing) by GengarKing
#25 – Creeper by ceemdee
#26 – Mr. Bubbles by Gene Cole
#27 – The Cake is a Lie… The Pumpkin is not. by Aaron "Ace" Hinds
#28 – Reaper and Reapette by Sussi
#29 – Pacman and Ghosts by Nick and Molly
#30 – Halo: Reach Haunted Helmet by Nick Everson
#31 – Fox McCloud by A Random Person
#32 – Old Snake takes out an Enemy Soldier by suicid3clutch
#33 – Max Payne 2 by ceemdee
#34 – Pokéball by ChimpoDelFuego
#35 – Oddworld by ceemdee
#36 – The Isshu starters, all dressed up for Halloween! by Bridgette Rockette
#37 – No King Rules Forever by Artais
#38 – The Orange Spy by ChimpoDelFuego
#39 – DeathSpank by ceemdee
#40 – Castle Crashers Animal Orb Rammy by Nick
#41 – Dungeon Keeper by ceemdee
#42 – Costume Quest by ceemdee
#43 – Guybrush by ceemdee
Man, what a great turn out this year! I tip my hat and monocle to all of you folks who sent in these awesome entries! And don't forget, be sure to keep checking back during the course of today (Halloween day) as we announce this year's winners! Stay tuned!
I've always said Kirby was a monstrosity. I mean we have photo evidence!
But more importantly the shirts Brent wears in this latest video are DAMN SEXY.
By brentalfloss, submitted by AuraMaIster and smashpro1
You've been talking to me all along… BROOOOOOOTTTTHHHHHERRRR!
By BroadSpectrumStudios and Hiimdaisy