You'd think at Christmas-time Bowser would take a week off or something! What a jerk.
By Dorkly
To Luigi! The greatest plumber in the Mushroom Kingdom! Okay that's not true… but he's still an important bro!
By Dorkly, submitted by smashpro1
http://www.dorkly.com/video/30941/dorkly-bits-mario-is-too-mainstream
Now you're playing with power! And thinking with portals!
By Dorkly, submitted by Linkaro and Steven D.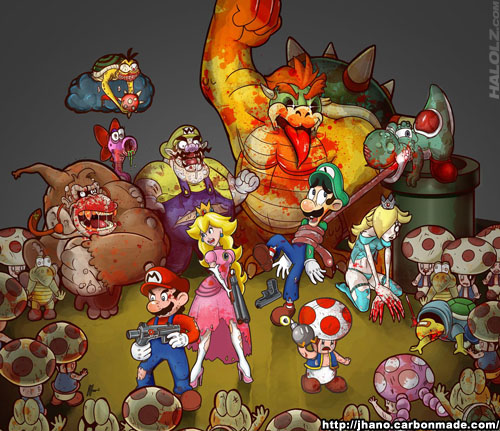 Lets see…
Koopa Troopa = Hunter
Donkey Kong = Charger
Wario = Boomer
Yoshi = Smoker
Birdo = Spitter
Rosalina = Witch
Bowser = Tank
Yep it all checks out!
By Josh Hano
So that's what things looked like from Mario's perspective! Mind… BLOWN.
Another video by freddiew [via Joystiq], submitted by several people
Mario should thank God those power-ups are stored so high up in the air… if these little jerks could reach them he'd be in a lot of trouble.
Artwork by ZeroMayhem, video by Dorkly
I had no idea Koopa Troopa was such a pro! Anyone who can dash boost to avoid a blue shell hit is fucking bad ass in my book!
By rawberry
Overpowered much? Still, I'm really looking forward to playing Ninja Gaiden's Ryu in Exploding Rabbit's Super Mario Bros. Crossover! I mean seriously… ninjas make everything better!