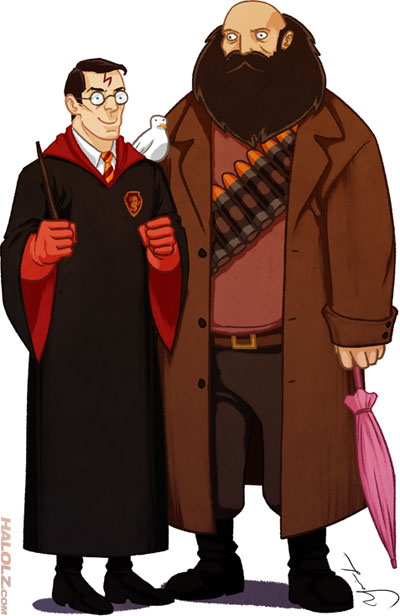 I'm not a big enough Harry Potter fan to think of a witty tagline for this one. Best one in the comments wins! Also apparently not our first TF2 Harry Potter thing.
By Yasmin Liang, submitted by several people.

| | |
| --- | --- |
| | Posted by Shawn Handyside on July 19, 2011 · 2:18 PM |
Categories:
Artistic, Best Friends 4-Eva, Cray-Z Crossovers, Disguises, Magic Powers, Movies, Storytime/Wordplay, Team Fortress 2, Valve Software

·




Share





Have you ever played Magicka? Lets just say adding PvP to it may or may not be the best idea ever. Either way I hope you like all your games ending like a Tarantino film.

| | |
| --- | --- |
| | Posted by Shawn Handyside on June 22, 2011 · 10:21 PM |
Categories:
Awkward Moments, Magic Powers, Movies, Rage Enducing, Smashy Smashy, Uncategorized, Video Clips

· Leave a comment () 64 Comments




Share





It kind of worries me how much this feels like every RPG I've ever played from the NES up…
By Rhete

| | |
| --- | --- |
| | Posted by Shawn Handyside on January 10, 2011 · 9:07 PM |
Categories:
Achievement Unlocked, Ding! Level Up, Games, Magic Powers, Massive Damage, Retro, Special Attacks, Stabbey Stabbey, Swordplay, Uncategorized, Web Games

· Leave a comment () 163 Comments




Share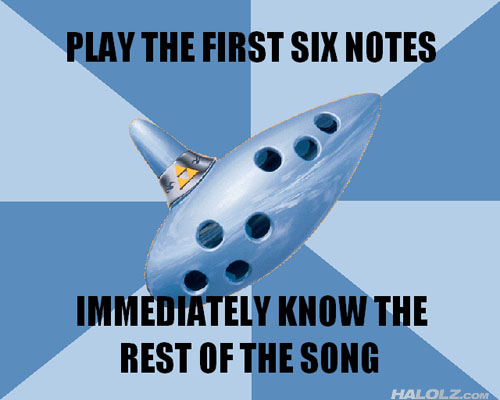 Hey buddy, you know the song of storms?
Maybe if you hum a few bars. Actually exactly six should be enough.
By JoeWuzHere

| | |
| --- | --- |
| | Posted by Shawn Handyside on January 3, 2011 · 9:11 PM |
Categories:
Advice Meme, Magic Powers, Musical, N64, Nintendo, Secret Items, The Legend of Zelda

· Leave a comment () 101 Comments




Share





It's a reasonable question, that (as you might expect) can only properly be answered by Lord Brent of Flossington! Also I'm glad I'm not the only person who thought it was weird collecting all those "P Bags."
Submitted by smashpro1

| | |
| --- | --- |
| | Posted by Shawn Handyside on December 27, 2010 · 1:12 PM |
Categories:
Cock Joke, Cosplay, Gameboy, GameCube, Kickin' It, Magic Powers, Musical, N64, NES, Nintendo, Power-Ups, Secret Items, SNES, Spiritual Enlightenment, Swordplay, The Great Outdoors, The Legend of Zelda, Tips & Tricks, Video Clips

· Leave a comment () 43 Comments




Share





I'm Alucard. I'm Aluuuucard… BITCHES.
By video game rap-master The Amazing BrandO

| | |
| --- | --- |
| | Posted by Shawn Handyside on November 1, 2010 · 8:54 PM |
Categories:
Castlevania, Konami, Magic Powers, Musical, NES, Power-Ups, Teamwork, Video Clips

· Leave a comment () 28 Comments




Share





Whoa.  I knew the engineer was kind of a dick, but I didn't realize he contained so much raw, seething evil! I'm staying the hell away from that guy!
By ZeConnoisseur, submitted by Willie

| | |
| --- | --- |
| | Posted by Shawn Handyside on October 4, 2010 · 3:59 PM |
Categories:
Creepy/Spooky, Disguises, Magic Powers, Mass Effect, Massive Damage, PC, Playstation, Team Fortress 2, Valve Software, Video Clips, Weird, Xbox 360

· Leave a comment () 94 Comments




Share





Well the crime rate's down at least! Although that might be from everyone getting the hell out of that town…
By CollegeHumor, submitted by Ogre

| | |
| --- | --- |
| | Posted by Shawn Handyside on October 1, 2010 · 3:12 AM |
Categories:
Explosives, Incoming Transmission, Irony, Magic Powers, Maxis, Overkill, Paranoia, PC, Political, Serious Business, SimCity/The Sims, Video Clips

· Leave a comment () 35 Comments




Share




« Previous Page — Next Page »