The only thing worse than his cosplay is his transformation sequence!
By Yang, submitted by Sadface

| | |
| --- | --- |
| | Posted by Shawn Handyside on May 10, 2011 · 11:50 AM |
Categories:
Anime, Artistic, Bad Ideas, Cosplay, Cray-Z Crossovers, Disguises, Disturbing, Fashion Faux Pas, Foreign Object, Strike A Pose, Team Fortress 2, TV Shows, Valve Software

·




Share





It delivers exactly what the title promises!
By shadamation

| | |
| --- | --- |
| | Posted by Shawn Handyside on March 4, 2011 · 1:44 AM |
Categories:
Cosplay, Musical, Nintendo, Off Duty, Star Wars, The Legend of Zelda, Too Much Free Time, Video Clips, Weird

· Leave a comment () 5 Comments




Share





Someone PLEASE post the crafting recipe for that secret weapon!
By CorridorDigital, submitted by several people

| | |
| --- | --- |
| | Posted by Shawn Handyside on February 21, 2011 · 2:16 AM |
Categories:
Best Friends 4-Eva, Cosplay, Explosives, Head Shot, Heavy Weapons, Massive Damage, Minecraft, Secret Items, Shields Up, Sneak Attack, Tasty Treats, Teamwork, Video Clips, Zombies

· Leave a comment () 69 Comments




Share





It's dangerous to go alone… take Phillip Jeffrey's highly obscure Zelda II cosplay! Just don't let him get all existential on you

| | |
| --- | --- |
| | Posted by Shawn Handyside on January 29, 2011 · 11:46 PM |
Categories:
Cosplay, Nintendo, Photo Op, The Legend of Zelda

· Leave a comment () 91 Comments




Share





It's a reasonable question, that (as you might expect) can only properly be answered by Lord Brent of Flossington! Also I'm glad I'm not the only person who thought it was weird collecting all those "P Bags."
Submitted by smashpro1

| | |
| --- | --- |
| | Posted by Shawn Handyside on December 27, 2010 · 1:12 PM |
Categories:
Cock Joke, Cosplay, Gameboy, GameCube, Kickin' It, Magic Powers, Musical, N64, NES, Nintendo, Power-Ups, Secret Items, SNES, Spiritual Enlightenment, Swordplay, The Great Outdoors, The Legend of Zelda, Tips & Tricks, Video Clips

· Leave a comment () 43 Comments




Share





A tale as old as time, now as a one man musical! Just what you'd expect from the mind of ol' brentalfloss!

| | |
| --- | --- |
| | Posted by Shawn Handyside on December 18, 2010 · 11:29 PM |
Categories:
Cosplay, Musical, Nintendo, Super Mario Bros, Video Clips

· Leave a comment () 46 Comments




Share





Am I the only one who thought it was a little weird you had to put the pieces of Dracula back together to kill him a SECOND time? I mean, isn't he pretty non-threatening broken up into obscure body part chunks that are stored in remote locations?
These questions, and many more, will not be answered in brentalfloss' latest video!
Also enjoy some bloopers!

| | |
| --- | --- |
| | Posted by Shawn Handyside on November 6, 2010 · 10:51 AM |
Categories:
Awkward Moments, Castlevania, Cosplay, Creepy/Spooky, Fists of Fury, Head Shot, Konami, Musical, NES, Stinky, Video Clips, Zombies

· Leave a comment () 25 Comments




Share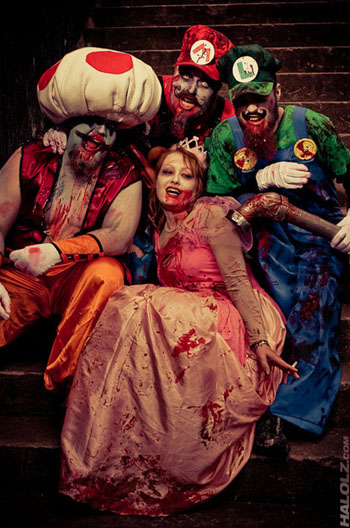 Okay, last zombie pic for a while… I swear! I just can't resist an undead Mario Bros. group shot! Also sidenote, if a zombie eats Toad is that like their equivalent of being a vegetarian?
Photo by Marko Saari

| | |
| --- | --- |
| | Posted by Shawn Handyside on November 3, 2010 · 9:21 PM |
Categories:
Best Friends 4-Eva, Cosplay, Creepy/Spooky, Nintendo, Photo Op, Super Mario Bros, Zombies

· Leave a comment () 36 Comments




Share




« Previous Page — Next Page »