Gamers Mistake Riot for Zombie Apocalypse
By Halolz Senior E3 2010 Correspondent Mike Moore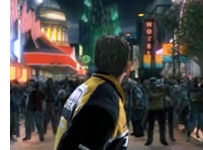 Many gamers, upon leaving some E3 after parties Thursday night, were confused to find a large police presence out on the streets of LA. The swathes of police in riot gear, and the prevalence of police helicopters, led many of these gamers to conclude that a zombie outbreak had occurred. It is reported that some offered their services to the police, boasting their Left 4 Dead stats and skills.
"We weren't really sure what they were talking about," said one unnamed police officer about his experience with one group, "They seemed pretty drunk, and seemed harmless so we left them alone. Eventually they went away yelling about umbrella and looking for pills or something."
Reports seem to indicate that most of these after parties had open bars, which possible led to the gamers' mistake in understanding the situation.
Additionally from what we have been about to piece together the police presence was due to the winning of some sort of non-video game event which occurred at the Staples Center arena. This was the same location Activision used for their press conference a few days earlier. We have contacted Activision, and are waiting to receive word if the two events were in any way connected.

| | |
| --- | --- |
| | Posted by Michael Moore on June 22, 2010 · 3:11 PM |
Categories:
Articles, Capcom, Conventions, Drugs & Alcohol, Left 4 Dead, Paranoia, Party Time, Resident Evil, Sports, Valve Software, Zombies

·