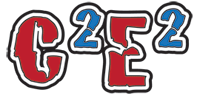 Another show? ALREADY? Didn't I just do two shows at the same time? Why are you guys doing this to meeeeee?
Well nonetheless, this evening I fly out to Chicago to get ready for the all new Chicago Comic & Entertainment Expo (or C2E2 for short) which is happening THIS WEEKEND at McCormick Place. I'll be sharing a booth with my buddy Scott (VG Cats), and we'll be doing a panel on Saturday at 5:30 pm in room E351 (wherever that is) and I'll have some new stuff for you to check out…  like for example… these brand new magnets!
I just started trying out these fancy 2″x3″ magnets (they're really nice, but I don't know how to describe them… they're the kind that are all covered in clear plastic and have the wrap around edges) and so far people seem to be digging them! I'll have some other familiar designs as well, but I thought I'd show you these two since their totally new! Of course credit for the joke goes to Mike for his original submission.
So yeah, Chicago-ites! Come by this weekend and say hi! It looks like this could be a big show and should be a lot of fun! See ya!

| | |
| --- | --- |
| | Posted by Shawn Handyside on April 14, 2010 · 3:01 AM |