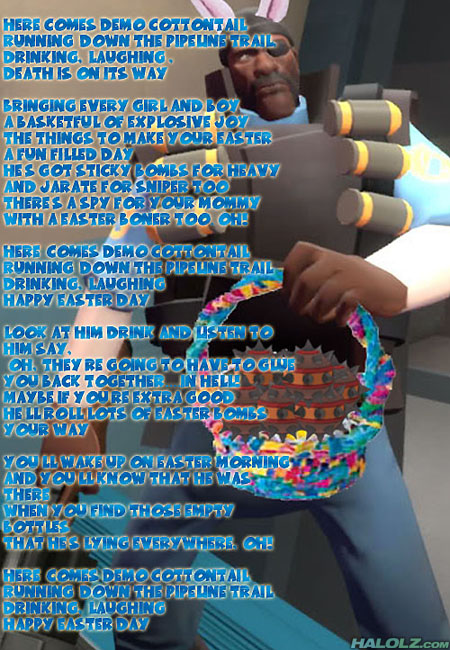 Sorry, shoulda posted this yesterday. Of course I DID just get back from Seattle and all!
"I'm drunk! You don' have an excuse!"
By Brian Lastorka
lyrics
Here comes Demo Cottontail
Running' down the Pipeline trail,
Drinking, laughing,
Death is on its way
Bringing every girl and boy
A basketful of explosive joy
The things to make your Easter
A fun filled day
He's got sticky bombs for heavy
and Jarate for sniper too
There's a spy for your mommy
with a Easter boner too. Oh!
Here' comes Demo Cottontail
Running' down the Pipeline trail
Drinking, laughing
Happy Easter Day
Look at him drink and listen to him say,
"Oh, they're going to have to glue you back together….in hell! "
Maybe if you're extra good
He'll roll lots of Easter bombs your way
You'll wake up on Easter morning
And you'll know that he was there
When you find those empty bottles
That he's lying everywhere, Oh!
Here' comes Demo Cottontail
Running' down the Pipeline trail
Drinking, laughing
Happy Easter Day

| | |
| --- | --- |
| | Posted by Shawn Handyside on April 5, 2010 · 7:09 PM |